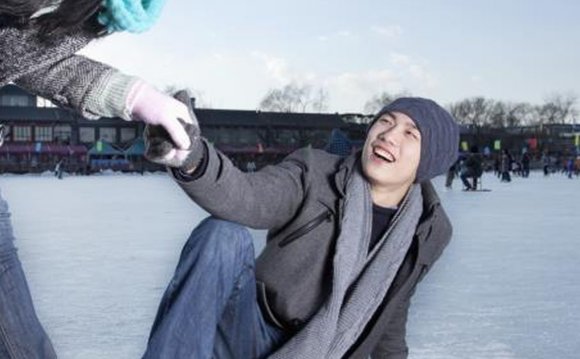 Look for skates that are specific to your child's needs. Hockey skates won't work for figure skating, and figure skates won't work for playing hockey.
Figure skates have a longer blade and a toe pick on the front, while hockey skates have a curved blade and no pick.
Figure skates are more stable than hockey skates and are better for recreational skaters. If you are purchasing a first pair of recreational skates for your child, you're probably better off starting with figure skates.
Take your child's age into account. Most of the guidelines for purchasing children's ice skates apply to children of all ages, but keep in mind that:
Toddlers need skates with a wide double rail (two blades) and a solid bottom. These skates will be safer and more comfortable for very young skaters, and they won't need to be broken in.
Children younger than six should also have a double rail to prevent wobbly ankles.
Get professional advice. There are a huge variety of children's ice skates on the market, and different types of skating call for different skates. In general, then, it's best to buy your child's skates from a dedicated skating store, where you can get the advice and assistance of a professional.
Avoid purchasing skates from a general department store. Without professional guidance, you may wind up with the wrong type of skates for your child, and this could lead to poor performance, an uncomfortable fit, or even an injury.
If your child has a coach or teacher, you can also use this person as a resource! He or she will have specific recommendations for your child and may also know where you can get the best deal on the skates you need.
Get the right size. Correct fit is crucial - if the skates are too small, they will hurt your child's feet, but if they are too large, they won't provide the necessary stability. Your child will likely need a different size in skates than he or she wears in sneakers, so again, a professional fitting is important.
Take your child to try the skates on, wearing thin socks (or whatever socks he or she will usually wear when skating). Try on several different brands, as each will have a slightly different fit. The skates should feel quite snug compared to regular shoes, but they should not be painful.
Lace up the skates completely when trying on. To get the best sense of the way a particular pair of skates will fit, you need to lace them all the way up.
Have your child stand and walk in the skates. If his or her heel lifts out of the boot, or if there is much wiggle room in the toes, the skates are too large.
You may be tempted to buy a larger size so that your growing child can wear them for a bit longer, but this isn't a good idea - in fact, it could even lead to injury.
If you absolutely cannot try on skates in person and must estimate, start with a pair of skates two sizes smaller than your child's typical sneaker size.
Buy skates that are comfortable. If you've found the right kind of skates in the correct size, you're already well on your way to choosing something your child will feel comfortable in. However, there are a few other things to keep in mind when you compare options:
Avoid buying double-bladed skates, or the kind that you strap onto your shoes. These skates don't grip the ice properly. Your child may feel wobbly and uncomfortable in these skates, and he or she may wind up with a completely avoidable injury.
Pay attention to ankle stability. Children's skates should provide good ankle stability to prevent injury. This means that the skates need to have moderate stiffness, and your child should not be wobbly while standing in them.
Choose quality skates.
Although they are more expensive, higher quality skates will provide comfort and stability, leading to happy and injury-free skating sessions. In general, good figure skates will be made out of leather; while good hockey-style skates will be made out of strong but lightweight materials.
Different brands work best for different skates, but in general, Jackson and Riedell are seen as the best figure skate manufacturers. Bauer is a popular brand for hockey skates.
Look for affordable skates. Kids can outgrow skates very quickly. Since you can't buy skates a size too large without risking injury, you'll want to look for something affordable.
It's probably not wise to buy the cheapest skates on the market, as these might not provide the support, comfort, or performance that you want, but there are a few ways to save money on your child's skates:
Consider a skate package. While boots (the shoe part) and blades can be bought separately, it is often easier and cheaper to purchase them as a package. This is especially true for kids, who may only be using their skates for one season before outgrowing them.
Look for skates allow for size adjustments. Some skates are built to be adjustable so that children can use them for a longer period of time.
Consider used skates. If you are struggling to afford a quality pair of skates for your child, you can try getting used ones from friends, relatives, or your children's teammates. However, fit and function are still crucial. If you can't find the right kind of skates in a good fit, it's not worth the savings.
Buy skates that allow for easy maintenance. Skates that have the boots and blades attached allow for easy maintenance. Additionally, you will want blades that maintain their sharpness to reduce the maintenance required. Quality blades will reduce the need for constant sharpening.
Make sure you use blade guards and completely dry your skates every time you use them to maintain them.
10
Explain to your child that new skates must be broken in. Brand new ice skates might feel slightly uncomfortable, even if they fit perfectly. Your child may wind up with a blister or two. Make sure your child understands that these issues should be temporary; once the skates have been worn a few times, they should feel nice and comfortable.
You can minimize this period of discomfort by having your child wear brand new skates for only thirty minutes at a time.
YOU MIGHT ALSO LIKE
Kids Skates - Where To Buy The Best
How To Buy Figure Skating Blades
Guide to Buying Figure Skates/How to Break In New Figure ...
Share this Post