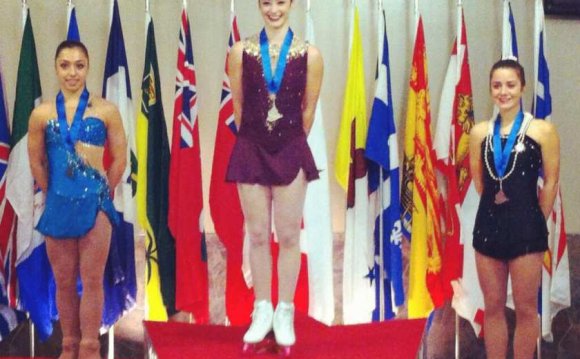 Former champion Szabo settles for men's silver; Busch places second
Daniel Palmeri claimed gold in his first appearance at the U.S. Adult Figure Skating Championships, while Jaclyn Yacomes took the title in the championship masters junior-senior ladies event. -Jay Adeff
Championship masters junior-senior men's
No one was able to top the total, though Palmeri didn't know for sure at the time, because he was so nervous he waited outside the building while the remaining competitors skated. Though he fell on both his double axels - a jump he rarely misses - Palmeri nailed two triple salchows to win the men's title.
"I was really nervous after the warmup, but I just said to myself, 'Go!' when I heard my name called, " Palmeri said.
With Level 4s on two of his three spins, and laying claim to the highest component scores of the event, Palmeri squeaked out the win over last year's champion, Zachariah Szabo.
Szabo, who skates for the Detroit Skating Club, opened his program with a double axel that was so huge, the audience gasped before they cheered. It received a full point of positive Grade of Execution (GOE) from the judges. Szabo's smooth and sophisticated program, skated to music from Cinema Paradiso, continued with seven more double jumps. But Szabo's lack of combinations and Level 1s on spins held him just about 1.5 points behind Palmeri.
The bronze medal went to Grant Chien-Hao Huang of the Kansas City Figure Skating Club. Skating to a lively Frank Sinatra medley, Huang skated for the crowd as much as the judges. He received a Level 3 on his flying change foot sit spin and completed eight double jumps to earn 54.00.
Championship masters junior-senior ladies
Always fierce and always the consummate competitor, Jaclyn Yacomes was all business when she took to the ice for her free skate in the championship masters junior-senior ladies event.
Skating to Emil Gilels' "Piano Sonata No. 14 in C-Sharp Minor, " Yacomes was concentrated and intense. As Gilels pounded out the keys to the sonata, Yacomes pounded out the jumps with perfect precision, winning the title with 59.90 points, more than five points higher than second place.
"I just love this music and this program, " Yacomes said. "Even though I was tired from the altitude, I'm really happy that I sold this program to the audience."
YOU MIGHT ALSO LIKE
Kansas City figure skater vying for spot on U.S. Olympic Team
Figure skating competition in kansas city 2011
Former Olympian teaches figure skating in Kansas City area
Share this Post