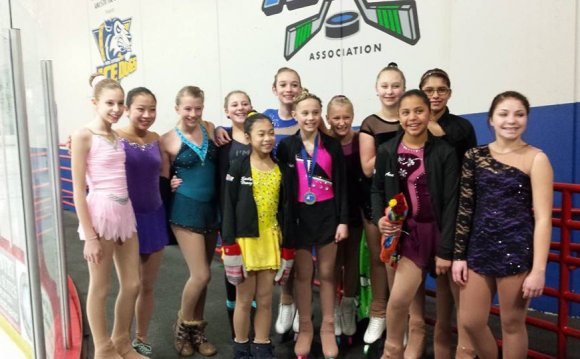 Red, White and Blades
Red, White and Blades is Wisconsin FSC's annual ice show held every May. It is one of the finest amateur skating shows in the country.
The show is open to any skater who is a member of WFSC. In addition, any skater (even skaters NOT belonging to WFSC) who is in a Learn to Skate program can participate in the Red, White and Blades Learn to Skate number.
Show information including practice schedules, numbers, costs, etc. begins to be available near the end of March. Skaters may sign up for anywhere from 1 to 4 numbers in the show. They will be assigned to coaches and will begin practices in early April. A calendar of scheduled practices and practice changes can be found online.
Show week is usually held in the following format:
Thursday – official dress rehearsal with audience
Friday – 7:00 pm show
Saturday – 2:00 pm and 7:00 pm show
Sunday – 2:00 pm show
Parents with participating skaters are expected to help out with the show. Volunteers are needed in every area from ticket sales to costumes, publicity to locker room helpers. When skaters register for the show, parents will be asked to specify areas of interest for volunteering and a volunteer coordinator will contact them. Parents may also opt for the volunteer time buyout which means that you may pay a specified dollar amount instead of volunteering your time.
River poker river poker iran
YOU MIGHT ALSO LIKE
Fond Du Lac Figure Skating Club "Class Reunion" 2015
Merkepel Alesya Wisconsin figure skating club
Share this Post