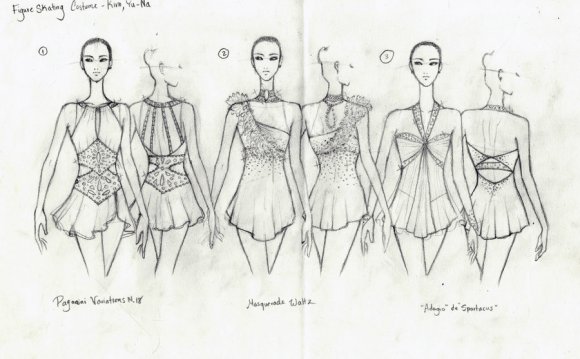 Best of the Bedazzled Figure Skating CoutureContinuing with my end-of-the-year "Best Of" Lists, now it's time for one of my favorites subjects here on my blog: Figure Skating Costumes! As you know, I enjoy blogging about Figure Skating Costumes and I have a feeling you guys like it too! This past year/season was a very colorful, bedazzled, feathered-filled one. Here are my Top Picks for favorites of the Year...
Best Men's Costumes:
Tatsuki Machida: Japan-He skated to "The Firebird" for his Free Dance and his costume was FABULOUS! The neckline and upper torso red and yellow sequin detail was marvelous and went perfectly with the black illusion top. This is a PERFECT Men's Costume for that particular music. Not every male can get away with this look (at this point we know we'll never see Jeremy Abbott or Patrick Chan sporting this style), but if you can carry it off-and Tatsuki can-then Go For It!
Brian Joubert: France-2007 World Champion Brian Joubert performed his Short Program to "Genesis" by Justice and "Aerodynamic" by Daft Punk. His soundtrack was very electronica/French House and so it was appropriate for his costume to be less "Costume Period" and more contemporary. The top section featured black illusion and faux leather trimmed in gold. I call his look "Manly Flashy". And I like it! So much so, his costume was one of my favorites for 2012.
Yuzuru Hanyu: Japan-For his Long Program during Season 2012-2013, Hanyu skated to "Notre-Dame de Paris". I really liked this costume. It was soooo Johnny Weir in its no-holds-barred design philosophy and embrace of feminine-like details. The big cross, the ombre dyed ivory and red shirt, the one sleeve ruffle and one black glove; lots of details and he was not afraid to "Go For It"!
Daisuke Takahashi: Japan-Takahashi wore this above for his 2012-2013 Season Short Program to "Roll 'n' Roll Medley", "The Stroll", "Rudy's Rock". He went "Tokyo Elvis" with his get-up and I LOVED it: t was exuberant, music-appropriate and a big hit with all his little girl fans and yes, one of my Top Picks of 2012 Figure Skating Costumes.
I also loved the costume he wore for his Long Program to "Pagliacci". It had overt references to the famous operatic clown but yet deconstructed. This was a very thought-out look and costume. Kudos to this modern, yet still Figure Skating theatrical-perfect "Pagliacci" costume. I've said this before, but it bears repeating, I really love how these Japanese MALE figure skaters embrace the whole costume part of their performance and think "outside the box".
Patrick Chan: Canada-Above is what he wore for his 2012-2013 Season Short Program to Rachmaninoff's "Elegie in E Flat Minor". It was deep blue-colored lightly beaded blouson long sleeve top with a plunging neckline (Oh Patrick!) with attached convertible collar and cascade ruffles. Since his music was Classical, I think he was trying to vibe a classic and romantic look and he even had a lace back detail which is A LOT of look for Patrick. I did LOVE the pants. They fit him PERFECTLY and I liked how they had the beaded tuxedo stripe down the side, bringing in the lightly beaded detail from the top. I appreciate the risk Patrick took with this costume and definitely thought it was one of the best of 2012.
Best Ladies Costumes:
Ashley Wagner: USA-This, hands down-was one of my favorite Figure Skating Costumes of this past year/season. American figure skater Ashley Wagner, wore this for her Free Skate to "Samson and Delilah". From the moment she stepped on the ice, I thought this was Figure Skating Costume Perfection. The bright sunburst yellow with ombré dyeing; the expertly applied sequins, the torso and neckline detail...It was very "Samson and Delilah" for sure and at the same time suggested the works of some of the better-known Lebanese Couturiers like Elie Saab and Zuhair Murad. Therefore, she was Red Carpet Fab and Figure Skating Perfection!
Agnes Zawadzki: USA-Agnes skated her Free Skate to Gershwin's "Rhapsody in Blue" by the Boston Pops Orchestra during the 2012-2013 Season. Her Costume was designed by Pat Pearsall. I thought this was a very well done costume. The crystal effect down the torso, bust and wrist area was excellent. As a whole, the design-and costume-looked very European and chic.
I also liked her Short Program Costume to "Sex and the City". It was a baby blue costume ensemble which evoked the spirit of Abu Dhabi and the United Arab Emirates "Gulf States Princess" of the movie "Sex and the City 2". Definitely one of my Top Picks for 2012.
Akiko Suzuki: Japan-I LOVED this costume above, which she wore for her Free Skate to "O" from Cirque du Soleil. The costume was pretty fabulous. It had a one-shoulder neckline silhouette, was turquoise blue and green and had overt Peacock influences-notice the sequin applique and feathers. I also liked the side draped "skirt" section. This was a very well done costume. One of the best of this season for sure.
Mao Asada: Japan- Mao Asada wore TWO great costumes this 2012-2013. So great, both placed on my "Best of 2012" List. The one above is what she wore to her Short Program to "I Got Rhythm" variations by George Gershwin. It was a coral and silver criss-cross draped and shirred costume that looked chic, sexy and like a Rodarte dress. Loved it!
For her 2012-2013 Season Long Program to Music from Swan Lake by Tchaikovsky, Mao wore this gorgeous ivory, gray and silver costume which I also loved. The details on it were very Haute and I even liked the "shredded" skirt. My favorite part, however, were the wrist details. It was very "Black Swan", the movie. She HAD to be in this Top Costumes of 2012 list.
YOU MIGHT ALSO LIKE
Best And Worst Figure Skating Outfits At The 2014 Winter ...
*black* Figure Ice skating dress Kürkleid Roll ...
Figure Skating
Share this Post