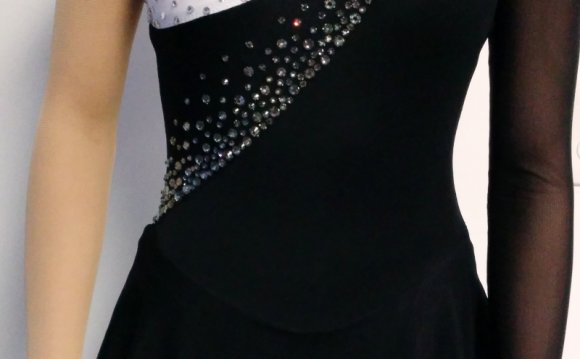 I have had the pleasure of working with Kats Designs for the past 10 years. Their entire staff and quality of product produced are excellent! My three daughters have had all their skating, and solo dance costumes designed by Kats during this period. Over the years, we have received many wonderful compliments about their extraordinarily beautiful costumes. We always enjoy the entire process of designing a costume at Kats Designs. From the moment you step through the door you are made to feel a valued customer. Their design team and expert seamstresses work closely with you and create the perfect costume. The quality and creativity in each and every costume they produce is phenomenal, coupled always with the perfect fit! I highly recommend Kats Designs to anyone looking for a personable, friendly, professional design team who are also extremely capable of producing spectacular original costumes every time! Thank you!
Kathy Nimens, Markham, Ontario Canada
My daughter is a 3 time Ontario Provincial Champion in Rhythmic Gymnastics and has been involved in this sport for over 9 years. Both my daughter and her coach are very detailed orientated people, especially when it comes to competition costumes. The overall design and coloring of the costume must coordinate and work well with the routine's music.
Over the years I have tried several designers for custom made competition suits and I found that Kats Design was always able to offer my daughter the best design that would meet the stringent requirements both her & her coach were seeking. Prompt delivery and friendly staff were another key factor keeping our family as a repeat customer. I have no hesitation saying that Kats Design is one of the top professional companies in the customs made costume industry.
Through my experience dealing with Kats Design for all these years, I know that from the moment I present the music of the routine, the basic color that my daughter was looking for, and our general ideas that I could rest assured that I was in good hands. This has been proven by the high quality design and implementation of the costumes they have delivered. Keep up the good work, a friendly, professional and quality company is really hard to come by these days. I have no hesitation in recommending Kats design to anyone.
Betty Rich, Ottawa, Ontario Canada
Beautiful costumes!!! Every year we are so excited and happy to receive the stunning, high quality costumes that Kats Designs produce. I have gone through many costume companies over the past 25 years that KICKS Dance Studio has been in business, but since Kats has been making our competitive and recreational dance costumes, I can relax. The professional, caring staff look after every detail Keeping in mind budget, age appropriate costumes and exquisite details! The costumes are always ready by the promised date and there is never a problem if some of the costumes require minor alterations. Kats Designs look after everything for you so the dancer looks wonderful in their custom made costume. Thank-you to the Kats Designs Team for all your hard work, your attention to detail and most of all your warm, caring personalities which makes it a pleasure to deal with you. I wish you continued success for years to come.
Jo-Ann Ko, Studio Owner and Director, KICKS Dance Studio
My experience in dealing with Kats Designs is second to none. Coming from across the Atlantic where everything looks the same I had the pleasure of Kats being recommended by a friend. I have now had dealings for the past 2 years and had numerous costumes supplied. The choice is yours and they help you design and come up with some amazing ideas to suit your needs. The quality of the fabric and colours is such that it lasts for years. The service provided is top class and you always get your items by the agreed timescale and more often than not sooner. I am in the process of having 2 outfits made for my daughter and as usual cannot wait to see the finished article. I would have no problem in recommending Kats to all my friends.
Karen Burns Glasgow, Scotland
I was referred to your company through a friend who told me about your work and highly recommended you. Well now my daughter has received her competitive skate dress I can see why you were spoken of so highly. First my daughter is thrilled and the dress is a work of art and fits her so well. Ordering was really easy and thank you for the beautiful designs. I too will definitely refer your services and I am excited to work with you again.
Meghan B. Jacksonville, Florida
I received my rhythmic suit and it's unbelievable, the fit is perfect and I wore it for the first time everyone who saw it went crazy over it. This will be my fifth rhythmic suit from your company and I have to say each time you seem to step it up a notch. If I can do as well in my competitions as your company has done with my suit then I have a winning chance. Your work is truly beautiful thank you to your design team and production staff who as always have been so helpful and inspirational with this process.
YOU MIGHT ALSO LIKE
Skatewear
Custom Figure Skating Dresses
Custom Figure Skating Dress by Sk8 Gr8 Designs
Share this Post