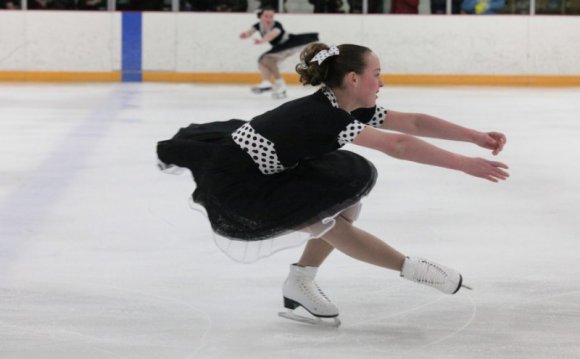 The Shooting Stars - Preliminary 2015-2016
The Shooting Stars - Preliminary:
Arushi Aggarwal, Amelia Ash, Caroline Barnes, Jodi Chen, Cherie Chin, Chelsea Fernandez, Meira Fiber-Munro, Sarah Green, Miu Hagio, Nari Kang, Alexa Kennedy, Alexandra Klimashova, Angela Noyes, Erika Oue, Madison Ramsey, Samantha Shick, Irene Sohn, and Sophie Wojtczuk.
Head Coach and Choreographer: Erika Hoffman
Shooting Stars - Preliminary
The Shooting Stars-Preliminary team skates in the preliminary division and they compete in regional competitions. The team focuses on improving each skater's individual and synchronized skating skills. The skaters are 8 to 12 years old and mostly come from the greater Boston area.
Each season, it is the team's mission to learn the skills necessary to move up to the pre-juvenile division while also having fun and enjoying a team sport.
In 2013-2014, the Shooting Stars Preliminary team won three gold medals, one silver medal, and won gold at the 2014 Eastern Synchronized Skating Championships.
The Shooting Stars show off their progress by participating in exhibitions and competitions. As they progress throughout the year they will be exposed to a fun learning experience and connect with our more senior skaters who take these young skaters under their wing and share the joy of figure skating. At the end of the year they will have experienced many of the benefits and joys of synchronized team skating. "Synchro is the Experience for a Lifetime."
Recent Activities
Feb 07, 15 Shooting Stars Prelim
Jan 10, 15 Shooting Stars Prelim
Dec 20, 14 Shooting Stars Prelim
Nov 02, 14 Shooting Stars Prelim
Jan 18, 14 Shooting Stars Prelim
Dec 05, 13 Shooting Stars Prelim
YOU MIGHT ALSO LIKE
Hayden Synchronized Skating - Perform Beautifully
Perform Beautifully in Life, Hayden Synchronized Skating
An Evening Of Synchronized Skating - Hayden Kick Off Show
Share this Post