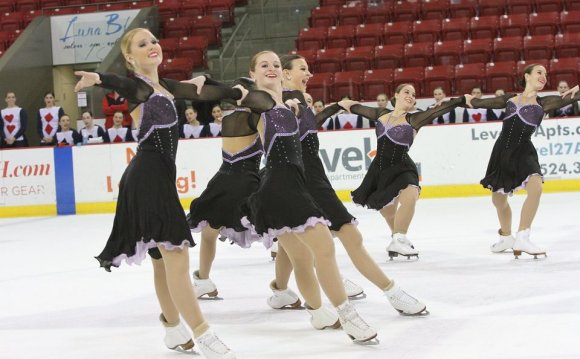 The Experience
Figure Skating School | Week 1: July 17-22 & Week 2: July 31-August 5, 2016
Skaters will be led through a week of vigorous training aimed at improving their overall skating quality and free skating elements.
Skaters must:
be an active USFS or ISI member
Includes:
14 freestyle sessions per week

5 On-Ice Skating Development Classes

Off-Ice Activities including yoga/Pilates and rock climbing

Classroom Sessions: off-ice jump technique and video replay

Elite Synchronized Skating Experience | July 10-15, 2016
Take a week long look into the life of a Miami University Varsity Synchronized Skater. Each clinic is a part of the training program that Miami student-athletes participate in on a regular basis. Skaters participate in Workshops, Conditioning, and Classroom sessions (Academic Coordination, Nutrition, etc.).
have passed their Novice Field Moves by May 1, 2016
be a high school student in Fall 2016 or a high school graduate*
be an active USFS or CFSA member
*Applicants who have attended classes at a Miami University campus are not eligible.
Synchro Element Workshops

Individual Skating Skills Workshops

Choreography & Music Interpretation

Off Ice Conditioning

Off Ice Performance & Dance Workshop

Classroom Sessions

Air conditioned university dorm room shared with roommate

24-hour supervision
Synchronized Skating School | July 24-29, 2016
The country's first Varsity Synchronized Skating Program is offering a week long program designed to develop individual skating and team skills. Participants will be led through a vigorous week of on and off-ice activities including Skating Skill & Synchro Workshops, Classroom Sessions, off-ice conditioning, and choreographing a "short" program to be exhibited at the end of the week.
Synchronized skating experience is helpful, but not required

Includes:
On Ice Skating Skills & Synchro Workshops

On Ice Choreography of "short" program

Choreography & Music Interpretation

Off Ice Conditioning

Classroom Sessions

ISI Testing
ISI testing is available throughout each week of Figure Skating School. Applications will be available in early April and will be due July 15.
This test session is open to any USFS member in good standing with the permission of their home club. Scheduling preferences will be given to testers departing Figure Skating School that day. Applications, test fees, and permission letters from non-home club members are due July 15.
Camp Directors
Jeannie Clay
Skating Director for the Goggin Ice Center and Figure Skating School Director
Carla DeGirolamo
Head Coach of Miami University varsity Synchronized Skating Teams and Synchronized Skating School & Elite Synchronized Skating Experience Director
On Ice Training Staff
The Figure Skating School Staff will include Goggin Ice Center's Assistant Skating Director Cassandra MacDonald, members of the Goggin Ice Skating Staff, and alumni of Miami University. These qualified coaches will provide group and private instruction throughout skating school. Forms for booking private lessons with our on-ice staff will be mailed out in early April.
The Elite Synchronized Skating Experience and Synchronized Skating School will include Miami University Varsity Synchronized Skating assistant coaches, Lee Ann Shoker and Katie Bowling, the Goggin Ice Center Skating Staff, alumnae of the Miami Varsity Synchronized Skating Team and various guest instructors who regularly work with the Varsity Synchronized Skating Teams.
Off Ice Training Staff
All conditioning classes are instructed by certified instructors from the Miami Recreation Center Staff in nearby facilities. Classroom instruction is also provided by a qualified instructor in the topic being covered. During Elite Week, participants will have a chance to work with the experts that the Varsity Synchronzied Skating Team uses throughout the year!
Supervisory Staff
Skaters are supervised throughout all activities and lead through their daily schedule by a member of our supervisory staff made up of Miami students or other adult staff.
The Goggin Ice Center is truly a state of the art building with two full size ice surfaces, one with arena seating, multiple locker rooms, and a spacious lobby. All residence halls have air conditioned rooms, dorm refrigerators in each room, Wi-Fi and laundy facilities are available. Off-ice conditioning classes are conducted at the University Rec Center and are led by their certified fitness instructors. The ice center, residence hall and dining facilities are all within a short walking distance of each other.
| | | |
| --- | --- | --- |
| Students will skate in the *state-of-the-art* Goggin Ice Center. | Camp students will stay at a Miami Residence Hall, conveniently located within a 3 minute walk from the New Goggin Ice Center. | Students will enjoy the freshly prepared meals offered every day at Scott Dining Hall. Students also have the opportunity to purchase goodies at the snack bar. |
Oxford, Ohio
Oxford, Ohio with a population of 8, 500, is the home of Miami University. Founded in 1809, Miami is a state institution that highly resembles an Ivy League school in academic quality and overall atmosphere. Oxford and Miami provide the very best environment to attract skaters. Once you visit Oxford, you will never want to leave!
YOU MIGHT ALSO LIKE
Miami U. Synchronized Varsity Ice Skating Team 2010
Miami Synchronized Skating - Worlds - Day2
Miami University Synchronized Skating Team 2012-2013
Share this Post