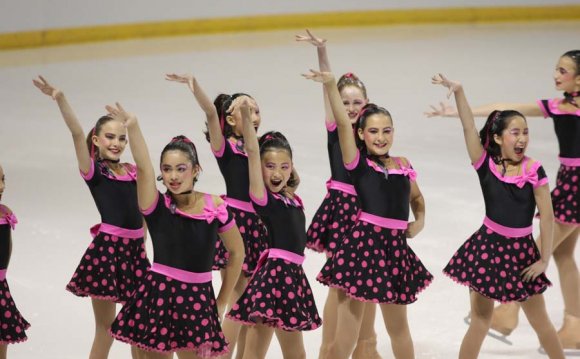 Preliminary Level Team
With enough younger skaters we could have a Preliminary level team next season. A team at this level has 8-16 skaters under the age of 12 with the majority under 10 years of age as of July 1, 2015. It is a team with skills higher than the Beginner team with less restrictions in the program elements. Younger skaters who have passed Pre-Preliminary or Preliminary MIF test would be candidates for this team. More details can be found on the Preliminary Team Information page.
Beginner Team
We hope you will consider giving synchronized skating a try. Please feel free to contact Vikki Dalquist, RFSC Synchronized Skating Director, with any questions: or (507) 287-0971.
What is a Team
Synchronized skating involves a team of skaters performing various elements and formations such as circles, wheels, and blocks to music. Teams vary in size from as small as 8 up to 20 skaters. Synchronized skating will increase your stroking power, improve your edges, teach you new turns, footwork, presentation skills, as well as counting and moving to the beat of music. It also provides an opportunity to make new friends and learn about being part of a team in a largely individualized sport.
The Rochester Figure Skating Club has had competitive synchronized skating teams at seven different levels including a Beginner level team. Team levels are based on the skill requirement for the teams and the ages of the skaters. All teams have practices during the school year and most during the summer. An attendance policy is followed during the school year, but not during the summer. Skaters who are interested in joining these teams should contact the RFSC Synchronized Skating Director. You are welcome to come and try skating with a team before making a commitment.
Team Philosophy
We intend to have a positive environment in which skaters will learn the skills needed for their current team level and build new skills that they can take to a higher level.
We cannot always offer medals, we are trying to teach the skaters life skills and good character traits such as: Mental toughness, how to win and lose with class, how to learn from mistakes, to have courage and dedication, to take responsibility to strive for their own personal improvement, to work towards team goals and to show respect for others and themselves. We also believe it is important to have fun and do our best to balance hard work with laughter to make sure skaters enjoy their experiences on our teams.
YOU MIGHT ALSO LIKE
2011 US Synchronized Skating Championships
Synchronized Skating and Why I Hate It. | Ice Skating for ...
Share this Post