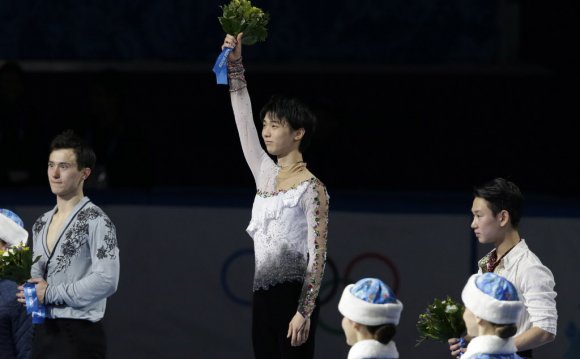 Notice how his head lands squarely in the $10, 000 space.
But I knew things were off to a rocky start yesterday when NBC cut to a coy Plushenko coin slot shot, with an impressive scar hat to boot:
Let's take a closer look:
(BTW those three orange flames you see at the bottom of that photo are a reflection of the candle I lit for myself to set the mood. Happy Valentine's Day. Holds rose out to delivery man, he slowly reverses his Corolla away.)
That scar you see is from a previous back surgery Plushenko had only last year. And when it comes to scars, hmm, I've seen bigger. Then again I'm a size queen. Just like his coach:
The moment I saw Evgenzies on the ice, running a few practice jumps before his short program routine, that was the moment I knew it was all over for my little Russian angel. Check out this attempt at an axel of some kind:
Oh my poor little Plushenkies. My little buttcut angel. Putin will probably have you put down, like an old horse, and how I wish I could be there to braid your hair one last time, stroke your snout, take the skates off your hooves and whisper sweet things into your horse ear as your eyes draw to a close.
Evgeni chatted with his coaches before taking a long ice march towards the judges' table to deliver the news.
And that was it. Plushenko was out of the completion. It was… over. So soon…
With Plushenko out, there were very few people to root for. But maybe I could muster up some energy for the next skater, our very own Jeremy Abbott? Maybe he could give the crowd a bit of a pick-me-up?
I see.
Jason Brown, known to the figure skating community as Joseph GordonLevitt, put together a solid routine set to Prince's "The Question of U." The Answer of U is "Fabulous."
And as for that previous comparison, why I think it deserves theSeparated At Birthtreatment:
YOU MIGHT ALSO LIKE
2014 Sochi Olympics- Figure Skating Preview NBC
Sochi 2014 Canadian Olympic Figure Skating Team Announced
Sochi 2014 Winter Olympics Figure Skating MV - number one ...
Share this Post