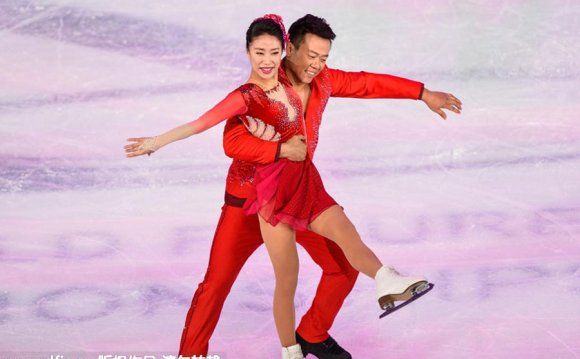 Yuzuru Hanyu only had a matter of weeks to prepare to defend his title at the world figure skating championships after a string of injuries and mishaps kept him off the ice for much of an unlucky season.
He showed Friday that it didn't matter.
Hanyu overcame a tumble on his opening quad toeloop to take the lead after the men's short program in front of an overwhelmingly partisan Shanghai crowd, who buried the ice with mounds of stuffed animals and flowers.
"I made an error on the quad toeloop, but my physical condition is nothing to worry about, " Hanyu said. "For the free skate, I'd like to put out everything that I have."
The Japanese skater scored 95.20 points, more than two points ahead of Javier Fernandez of Spain in second and nine clear of Denis Ten of Kazakhstan in third.
Fans begin raining gifts on Yuzuru Hanyu as his short program concludes at the world figure skating championships in Shanghai. (Johannes Eisele/AFP/Getty Images)
Nam Nguyen of Toronto was ninth while Jeremy Ten of Vancouver was 15th.
"It's really enjoyable to perform in front of a big crowd, " said Nguyen, a former world junior champion. "It's very cool for me to communicate my program to them."
Hanyu battles back
Hanyu has spent the past six months shuttling between the skating rink and the hospital. He delayed his start to the season because of a bad back and in his first event at the Cup of China in November he was bloodied in a freak accident when he collided with another skater at high speed while warming up for his long program.
He bounced back weeks later to win the Grand Prix Finals, but at the end of December, underwent surgery on his bladder to alleviate abdominal pain and was off the ice for six weeks. As soon as he was back in his skates, he sprained his ankle and was out for two more weeks.
"I was very anxious and thinking about the worlds, I really wanted to get back to my training, " Hanyu said.
He said, however, that his recovery following the collision at the Cup of China showed him the importance of taking things slowly.
"I learned a lot from that accident and how to recover by trying to do my practice without pushing my body too much, " Hanyu said.
It certainly helped Friday that Hanyu had the support of the crowd, who screamed when a video of him warming up backstage appeared on the screen above the ice and showered him with so many bears after his performance that it took nearly five minutes to clean up.
Fernandez rocks
Perhaps unnerved, the next skater out, big-jumping Maxim Kovtun of Russia, popped one of his two quad jumps and a triple Axel and ended up in 16th place.
Fernandez also worked up the crowd with his high-adrenaline performance to the hard-rocking song Black Betty by the 1970s band Ram Jam. Dressed in a tight black T-shirt, he played to every corner of the arena — and a few of the judges — with air guitar strumming, shoulder shimmies and high-kicking dance moves.
The Spaniard joked that he'll be ready for the avalanche of toys when he follows Hanyu in the free skate on Saturday.
YOU MIGHT ALSO LIKE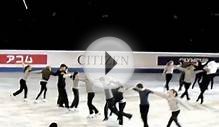 2008 Figure Skating Worlds Exhibition Practice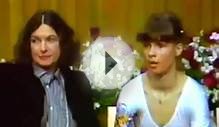 1982 Worlds - Figure Skating
World Figure Skating Championships 2015. SP. Yuzuru HANYU
Share this Post