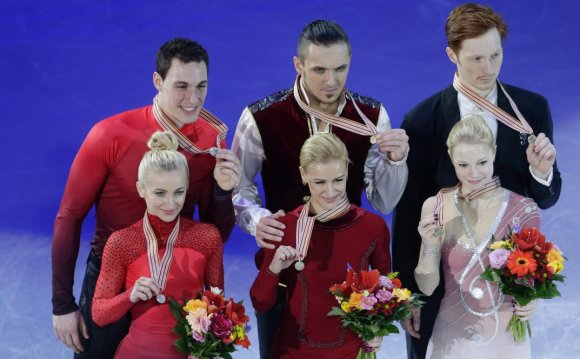 Hey guys! We're now officially past the halfway point for the 2015 Junior Grand Prix (JGP) season, and what better way to kick off my first fan blog than by recapping some great moments from the first four events.
In my opinion, the JGP's are some of the most entertaining competitions of the season, since you often don't know what to expect, especially from athletes who are making their international debuts. Rather than writing about things you may have already heard about (e.g., Nathan Chen's or McNamara & Carpenter's record scores), I'm taking this opportunity to share some of my favorite JGP performances that may have slipped under the radar!
Men's
1. Deniss Vasiljev's remarkable showmanship (JGP Riga)
The men's competition has been the most exciting for me, especially because we've seen medalists emerge from unexpected countries like Argentina, Israel, Ukraine and Latvia. I'm starting my list with Deniss Vasiljev's short program from Riga, where he performed at home and absolutely killed it! Deniss has enthusiastic presentation and unique moves, including this energetic footwork sequence and a wacky choreographed skid into his final combination spin. It's clear that Deniss loves to perform and is the type of skater that can bring crowds to their feet.
2. Vincent Zhou's gutsy combination (JGP Linz)
After two years away from competition due to injury, Vincent Zhou is back on the ice and eager to prove his talent and grit. While you might have seen his solid quad Salchow attempts, in my opinion nowhere is his competitive fire more apparent than the "Rippon" triple Lutz-triple toe in the last 30 seconds of his free skate. Vincent seems to revel in throwing down this risky combination at the end of his programs (it helped him win his 2013 U.S. junior title), and I can't wait to see it again at the JGP Final!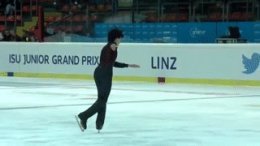 Pairs
3. Kim & Kam's promising debut (JGP Colorado Springs)
Speaking of skaters hailing from unconventional skating nations, this new pair shows how one great athlete can help spread skating in his or her home country. Yeri Kim and Alex Kam have only been together for a few months, but their partnership is in no small part the result of Yuna Kim's success and subsequent advocacy for South Korea's bid to host the 2018 Olympics. In turn, the Korean federation has increased funding and attention to all four figure skating disciplines. While their pair elements are still new, I loved seeing these two strong skaters show off their exceptional side-by-side elements and energetic presentation, including this nifty split jump-overhead walley-double Axel pass.
Ice Dance
4. Biechler & Dodge's special breakthrough (JGP Linz)
Americans Julia Biechler and Damian Dodge placed a respectable fifth at Bratislava, but their performances left a lasting impression on me. Sometimes when you watch certain skaters you can tell there's something special about them — think back to the first time you saw Michelle Kwan or Jason Brown, for example. I'm delighted that at Linz the team earned a personal best and surprise bronze medal finish, which for me was highlighted by this smooth and flowing diagonal step sequence. With deep edges and obvious chemistry, I think this couple is simply — in the words of their music by Meghan Trainor — beautiful.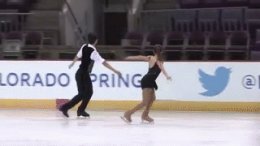 Honorable mention: Reigning JGP Final bronze medalists Popova & Vlasenko had an easy victory at JGP Riga, but they did so with an unconventional vehicle: when was the last time you saw a leading Russian ice dance team win gold with a program set to Beyoncé?
Ladies
5. Emily Chan's maturity and polish (JGP Bratislava)
At age 18, Emily Chan is considered a late bloomer: this is just her first year incorporating triples beyond toe and Salchow in competition. But amid a sea of youngsters, I'm not the only one who clearly appreciates Emily's standout musicality, maturity and elegance on the ice. At Bratislava, the judges rewarded her expressive (but tidy!) level 4 step sequence with all +2 and +3 GOEs, earning her a whopping 5.40 points — more than the base value of a triple flip. (In comparison, at 2015 Worlds, only Elizaveta Tuktamysheva received this many points for her footwork, and even she had a few +1s!). Emily also received the maximum score possible for her gorgeous layback spin, with all except one judge awarding her +3 in grade of execution.
6. Polina Tsurskaya's insane jump delay (JGP Bratislava)
Okay, so it may have been difficult to miss Polina Tsurskaya's literally record breaking performance in Slovakia, but I had to dedicate this last moment to her jumps! Not only are they high, far and confident, all of them have an incredible delay where she waits until the peak of the jump before pulling in to rotate. This 'hang time' feature earns extra GOE difficulty points, not unlike the 'Tano' overhead hand position employed by home country rivals Serafima Sakhanovich and Evgenia Medvedeva, whom Polina will likely face off against later this year at other JGP events or Russian Championships.
Honorable mention: Marin Honda's exceptional short program at Colorado Springs featured a relatively uncommon triple loop-triple toe combination, noteworthy for its great height, distance and flow.
Happy watching!
Mark
Mark Lee is one of four fans selected to be a U.S. Figure Skating Fan Zone Blogger. Mark, who lives in Washington, D.C., is a lifetime figure skating fan whose goal is to compete in the U.S. Adult Figure Skating Championships.
YOU MIGHT ALSO LIKE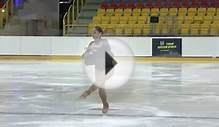 2015 ISU Jr. Grand Prix - Torun Ladies Free Skate Aiza ...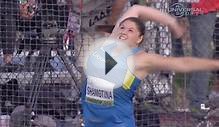 2014 Figure Skating Grand Prix: France: Papadakis and ...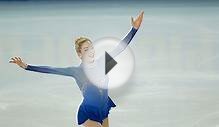 ISU Grand Prix Skate America TV coverage on NBC
Share this Post