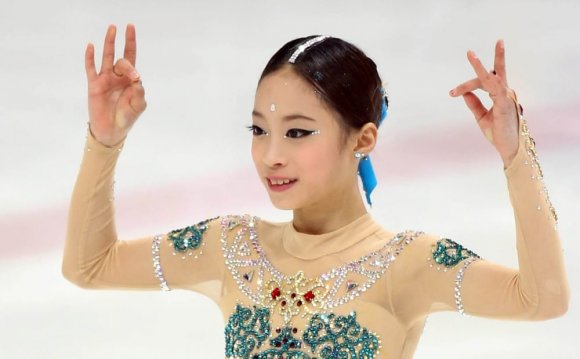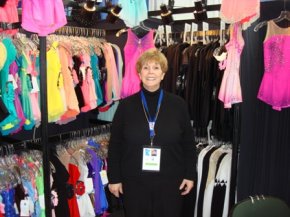 A compilation of interviews with various skaters, coaches, and fans from the 2008 US National Championships in St. Paul, MN. Interviews with Del Arbour, Aaron Parchem, Figure Skating Universe (FSU) fans, Tanith Belbin, Brooke Castille, and others. 33 minutes, 33 seconds.
Del Arbour, skating outfit manufacturer and designer, on whether she has a favorite client: I really don't. We dress some wonderful, wonderful people, high level skaters, low level skaters, all different, and they're wonderful, all of them. For the most part. Once in a while you get one who's not too great, but that's life. Most of the time they're just terrific.
Del Arbour
Daniyel Cohen, junior pairs competitor, on the best thing about the event: It's Nationals, it's the best. It's so much fun. And we're done! Now we get to go out and watch everybody. We went to the Mall of America the other day, but I think we're going to watch skating now, just watch all the championships.
Arielle Trujillo, junior pairs competitor, on the best thing about the event: Just being here, the experience is great to have. Just watching everybody. And getting to see friends you don't usually get to see, from across the country. That's nice.
Aaron Parchem, former pairs competitor, on whether he gets less stress and more sleep at Nationals as a coach: Less stress and less sleep. We have early morning practices now that I never used to have as a pairs skater, because nobody lifts a girl over their head at seven in the morning. I teach kids in the morning and pairs at midday.
Aaron Parchem and Kim Sailer
"JKL", skating fan, on why she never reveals who she likes in the novice competitions: I have a couple [of favorites], but generally it's the kiss of death if I put a star by their name in the book, or, you know, if I tell somebody that's the one to watch. Somehow or other they just….go away. But it's fun to follow. Go to novice and see the ones we're going to cheer for in about six years.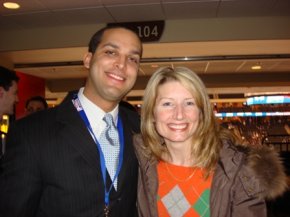 "UMBS Go Blue", skating fan, on his favorite part of the event: I liked Tanith [Belbin] and Ben [Agosto]'s original dance. I liked Meryl Davis and Charlie White's OD as well, they're great. They're fantastic. Also Mirai [Nagasu]'s short program, that was incredible. It blew the whole field away.
"My Little Pony", skating fan, on her favorite thing so far: I like that they have the Habitrails so we don't have to go outside. It's like -30 degrees here, which is not really habitable for humans. But it's like the city of the future but without any good stores. I went to the Macy's and it was revolting.
"BelleBway", skating fan, on her favorite thing so far: I just got here today so I haven't really done that much. Junior mens were really good. Adam Rippon is amazing, and I really enjoyed the whole event.
"Lizziebeth", skating fan, on her favorite thing so far: I loved the junior men. Everyone skated to the best of their ability, and the senior men are going to have a hard time following that performance. I hope they all skate their best, so I'm in the mood for a good competition.
Tanith Belbin, senior dance competitor, on getting sleep at competitions: You know, I sleep great at competitions. It's actually a relaxing week for me because at home I'm training nine to five, and here we have to skate only, what, an hour a day? It's great. I get to go out to eat, spend time with my family who I almost never get to see, and all of my friends. So I sleep awesome. I find that I skate best when I get out and socialize and try not to stay isolated too much. It gives me too much time to get inside my head and freak out.
Kim and I with Tanith Belbin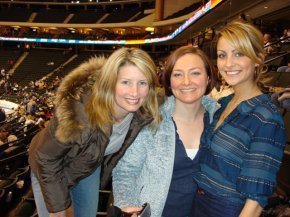 John Baldwin Sr., father of senior pairs competitor John Baldwin Jr., on being a skating parent: It's very nerve-wracking. When I was teaching him, right there at the barrier, it was less nerve-wracking, but all you can do now is sit up here and watch [laughs]. I have to turn into a parent, not a coach. I love to watch the women and the men and the dance. But not the pairs [laughs].
Jeff Schneider, trainer at the University of Delaware, on the work that he does: Every injury's different. There's been some catastrophic ones, there were some very basic ones. I've seen somebody just stroke and fall and break their arm, we've had severe head traumas, so there's not one that jumps out, they're all different. [The most common] is treating overuse injuries, primarily caused by boots. If something's added [to a skater's workout] it's due to a missed workout, not from being disrespectful or anything like that. When [the athletes] first get there, they think, "Oh, he's really mean" but they've figured out by now that it's really not the case. But that's our secret. We won't tell anybody that [laughs].
Alissa Czisny, senior ladies' competitor, on her plans after finishing her event: I'm going to go to the party and party with all the other kids, enjoy my time with them because I don't get to see everybody all that often. [And then] I'll take a break and then go back, talk with my coaches, things we need to change, and look forward to next year.
Allison Manley, podcaster, on interviewing Alissa Czisny: I feel like a complete moron for asking Alissa Czisny the generic question of "How'd you feel when you got off the ice?". Like an idiot [laughs]. I won't curse. Trying to keep this clean. But anyway, it was stupid and I feel pissed, and we're just going to take it with a grain of salt and move on.
Brooke Castile, senior pairs competitor, on what it's like to be thrown in a triple twist: I can't really describe it. It's not as spectacular as it looks [laughs]. It doesn't really feel as if you're flying – you kind of just have to do your thing up there. It's so quick that you can't really describe it. It doesn't feel high, it doesn't feel like you're flying. For me it doesn't. For some girls it might [laughs].
Interviewing Brooke Castille
Members of "Evan's Elfs", Evan Lysacek's fan forum, on showing their fandom at Nationals:
Carly: We created these badges for anyone who wants to wear one, and we created a 3-by-5 [foot] banner which is on its way to Sweden for worlds with one of our members. We have members from all over the world, from China and Hungary and Poland, everywhere, that meet at the Evan Lysacek fan forum and discuss the main man, which of course in our eyes is Evan Lysacek [laughs].
Mary: We also have T-shirts with the same logo that we wore on Friday and Saturday around the arena, so we were like walking billboards [laughs]. And so people would come up to us and say, "What is that? What does that mean? Evan's Elfs?" And so we would tell them. And we carry a bunch of the tags along with us in our bags that have pin backs, so we gave them out to people. If they said they were an Evan fan, I would say, "Oh, would you like to have one of these?" And I would tell them, it stands for the Evan Lysacek fan forum and you can find us online and join up if you want to. Or you don't have to, doesn't matter, but you're welcome to have one if you want to.
YOU MIGHT ALSO LIKE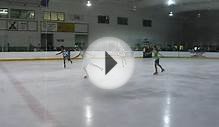 Across The Universe: Figure Skating group program 2008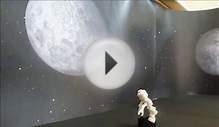 Lego Figure Skating in the universe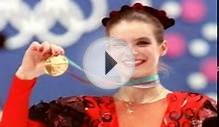 ice age 3 figure skating universe
Share this Post