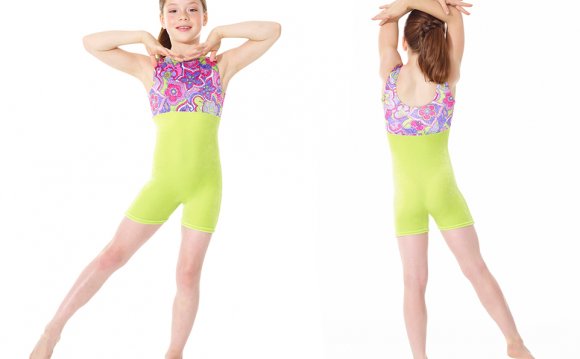 Top Three Pairs: (left to right) Silver medalist from Canada Megan Duhamel and Eric Radford, Gold medalist from Germany Aliona Savchenko and Robin Szolkowy, Bronze medalist from Italy Stefania Berton and Ondrej Hotarek, 2012 Skate Canada International, ISU Grand Prix of Figure Skating at WFCU Centre Windsor, Canada Alright kids, we're now wrapping up my Skate Canada 2012 Costume Reviews-you can read about the LADIES here and the MEN here , in case you missed it-so now it is time for the PAIRS and Ice Dance. And buckle your Costume Seat Belts...it's going to be a bumpy prints-and-sequins ride.
Let's being with the Unitard Costumed "Elephant in the Room"-yes, the German Gold Medal-winning Pairs team of Savchenko and Szolkowy: These two UBER fit Figure Skating Pairs couple are famous (or is it infamous?) for their "Pink Panther" get-ups of two years ago, which they wore for their 2010-2011 Season Long Program to, (you guessed it), "The Pink Panther":
No one thought they could top these costumes above. Well, kiddies. They did this year. Read on...Aliona Savchenko and Robin Szolkowy of Germany: For their Short Dance to "Kismet" by Bond (the Australian/British string quartet specializing in classical/pop crossover music), they went very Cirque du Soleil splatter-paint/tie-dye with crystals-for their costumes.
When they appeared on the ice at Skate Canada, I admit I GASPED. It was one of those "What the HE** ???". She wore a predominantly red multicolored unitard with a swirly illusion torso and choker/mock-neck detail. He wore a darker unitard with the Gay Rainbow Flag splattered on half his torso and legs. It made NO SENSE. And I swear that in the close-up images you could see PUFFY PAINT! Yes, PUFFY PAINT. But, surprise: I still liked it. Only because it was so wack-a-do. But (yeah there's a "but"), I know this was not music from "Kismet" the Musical or Film...and yet, part of me wishes that they would have dressed closer to this:And if you think what they wore for their Short Program was Koo-Koo, this is what they wore for their Long Program-Koo-Koo Part
Zwei:
Aliona Savchenko and Robin Szolkowy debuted these costumes for their Long Program to "Flamenco Bolero". Robin wore another unitard so it's a good guess that he probably LOVES untitards-or showing off his perfect physique via a unitard.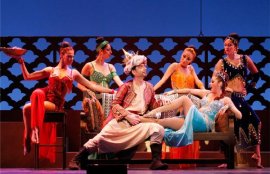 These costumes were like a Costume Tribute to Spanish Catalan artist Joan
Miró
-meets-Cirque du Soleil (once again!). The Miró part took care of the Spanish part in "Flamenco Bolero", but the unitard-splattered-paint costume madness...well, I'm still confused. With that being said, I am a big fan of being surprised, shocked and thrown off my couch when it comes to Figure Skating Costumes. And these two did that.
As Koo-Koo as they were, they get my "Nick Costume Vote" for MAJORLY stepping outside the costume box.
Although I must say it does become quite distracting...at least to me as a designer. The whole time I'm watching thinking "What is going on here?!?" and not really concentrating on the skating.
Megan Duhamel and Eric Radford of Canada-
They got the Silver for Pairs during this past weekend's 2012 Skate Canada International so Congrats to them.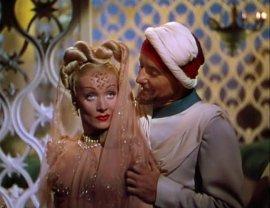 They skated to "La Bohème" for their Short Program. So, therefore, their costumes were supposed to reflect 1840's Paris bohemians. Well...not so mucheey. Between the two, they looked like a Sequined Pageant Girl Collides with a Gay Boy Scout. I like his ascot. That's about it. By the way: was that ascot supposed to qualify as the "Paris" part of "Parisian Bohemians"? Just wondering...For their Free Skate to "Soundtrack of the 2007 British Film 'Angel' ", he wore an outfit that made him look like a waiter at a local Olive Garden or the Head Concierge at the Four Seasons: a pin-stripe vest, gray shirt, black pants and tie. On a good note, if this was inspired by the music of a 2007 film, his outfit WAS VERY 2007. Her costume was "just there". She could have ordered it from a catalog. Nothing costume fashion-savvy earth shaking.Stefania Berton and Ondřej Hotárek of Italy-As is obvious from their Free Skate, these two skate to "Flamenco". They got the Bronze at Skate Canada 2012. She looks like a Spanish Flamenco dancer and he looks like a cute Czech boy (he is!) in a red and black sequined trim vest and black pants outfit. Positives: I like the asymmetry of her costume and the embroidered-and-sequined lace detail (which was carried onto to his look). Negatives: Oh gee, it's a red-and-black costume couple doing a Spanish Theme. How original. Not.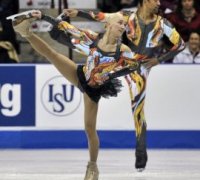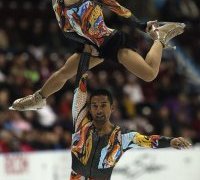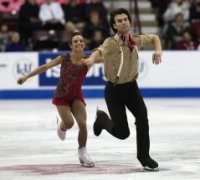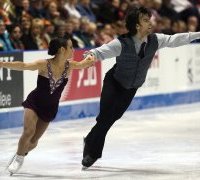 YOU MIGHT ALSO LIKE
SkateScience Figure Skating Blades Review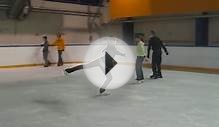 Figure skating with Natalia ;*
Figure skating elements - Twizzle
Share this Post