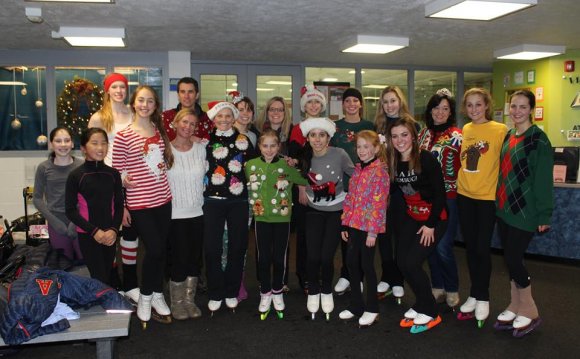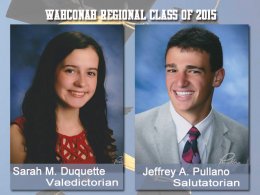 DALTON, Mass. — Sarah Marie Duquette and Jeffrey Alan Pullano have been named valedictorian and salutatorian, respectively, for the 2015 graduating class at Wahconah Regional High School.
Both students will speak at graduation ceremonies on Sunday, June 7, at 1 p.m. in the school gymnasium.
Duquette, daughter of Dale and Lynn Duquette of 145 Raymond Drive, is a member and treasurer of the National Honor Society, former class treasurer, and a founding member of the school's DISCOVER anti-bullying group. Within the community, she has volunteered with Buddy Baseball and the Learn to Skate and Basic Skating Skills programs at the Pittsfield Boys and Girls Club. She also is a member of both the Pittsfield Figure Skating Club and of U.S. Figure Skating, in which she has earned several medals and has been recognized with the U.S. Figure Skating Gold Level Seniors Award.
She has received academic achievement awards in science and math and has been recognized for perfect attendance. She also received the Cornell Book Award and honorable mention for her scientific essay in the IEEE Writing Contest. She received a perfect score on the Massachusetts Comprehensive Assessment System mathematics test, was awarded a John and Abigail Adams Scholarship, and plans on attending the Honors College at the University of Massachusetts at Amherst in the fall.
Pullano, son of Mark and Michelle Pullano of 54 Apple Tree Lane, serves as treasurer of his class, is a member of the National Honor Society and is a student representative to the School Committee. He founding member of DISCOVER, a member of the Green Umbrella Environmental Awareness
Committee, a member of Quiz Team and the As Schools Match Wits team, and the Morning News Announcement Team. In the community, he is a Buddy Walk and Buddy Games volunteer, president of Rotary Interact, for which he organized several service projects and received the Service Above Self Award. He is also a member of the Dalton Community Recreation Association Leaders Club and camp counselor, teaches Confraternity of Christian Doctrine at St. Agnes' Church, coaches youth sports teams, and assists with activities through the Council on Aging. He plays varsity soccer and was named All-Berkshire for two years, and is captain of the Berkshire Ajax Elite Soccer Team. He also plays varsity basketball and is captain for track and field, and received the Massachusetts Student-Athlete Citizenship Award.
Pullan also received a John and Abigail Adams Scholarship, the Harvard Book Award and the Rochester (N.Y.) Institute of Technology Award, earned a perfect biology MCAS score, and participated in Boys State. He plans on attending Williams College in the fall.
Share this Post