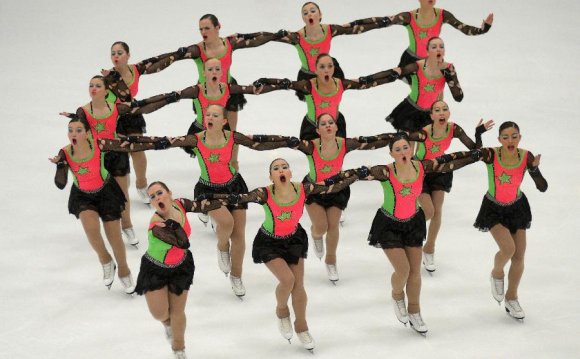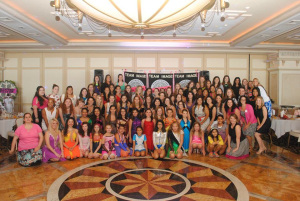 By Jocelyn Jane Cox
Team Image synchronized skating team, of Yonkers Figure Skating Club in Yonkers, N.Y., celebrated 25 years on Aug. 11. The timing couldn't have been more poignant, as founder and coach, Sylvia Muccio, lost her battle with liver cancer only a few short days before. Funeral services were held at Our Lady of Mt. Carmel Parish in Elmsford, N.Y., on Aug. 10.
The party was originally scheduled for the end of September but organizers scrambled to move the date up in the hopes that Muccio would be able to make it. There was even some last-minute hope that she could participate from her hospital room via Skype.
Fiona Curry, who helped organize the event, said, "Even though Sylvia wasn't able to make it, she choreographed every detail of the party from her hospital bed, right down to the event's speakers and types of cupcakes." Curry is a former Team Image skater who is now a team coach and also a parent of a team skater. She knew this celebration was a dream of Muccio's, so when the family insisted that the party continue as planned despite Muccio's passing, Curry, Team President Cheryl Hunt and other Team Image parents were all determined to honor this wish.
More than 160 guests, comprised of athletes, parents and coaches from the present and the past, attended this elegant brunch at Marina del Rey in Throgs Neck, N.Y. Tables filled with team photos and team memorabilia lined the room.
The party started with a fashion show of costumes from programs going back as far as 15 years. Team Image, which currently has five lines and 67 skaters, has fielded teams at every level, from beginner through senior. They won the gold medal in the intermediate division at the 2009 U.S. Synchronized Skating Championships. This was one of Muccio's proudest moments, though she had to watch the event from home on icenetwork, since she was undergoing treatment for breast cancer at the time.
Her skaters dedicated that win to her from afar. That season, they affectionately started calling Muccio, who was small in stature and a bundle of energy, The Nugget, as in the golden nugget. Muccio was always an example of perseverance and determination to her skaters but when she began to battle cancer, they came to see her as a true fighter. Many of her skaters began to participate with her in fundraisers for breast cancer.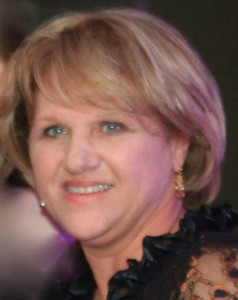 Linda Belger, who helped to start the team in the late 1980s, said, "It's hard to believe that all this grew from a 30-minute group class on Tuesday nights." Back then, it was called precision skating and their goal was simply to perform in the annual ice show at the EJ Murray rink. Muccio had recently re-located with her husband, Stephen, to New York from Chicago where she had been involved in the ISI skating program. At the Yonkers rink, Muccio connected with former pairs skater Robert Davenport, who would serve as her partner in taking all of her pairs skating tests, a rare accomplishment, especially as an adult.
At the 25th anniversary party, Davenport gave an emotional tribute to Muccio, wearing a shirt with neon paint splotches, one of the more conservative costumes Muccio convinced him to wear for the rink's annual ice shows, which Muccio directed and for which she did most of the choreography. Davenport recounted first meeting Muccio and their subsequent long talks on myriad of subjects.
Davenport recalled that she was an energetic and persuasive force. He asked the audience, at one point, how many people remember meeting Muccio for the first time. Most hands went up in the air. He spoke of her passion: passion for her children, twins Nicole and Anthony, passion for the sport of figure skating, for Team Image, for her beloved Chicago, and for just about everything she got involved in.
Muccio's daughter Nicole, 22, also gave a rousing tribute to her mother. Nicole skated for Team Image since she was a little girl and is now studying to become a nurse. She told the skaters of Team Image that her mother was very proud of them and encouraged them to continue to make her mother proud both on and off the ice.
Two of Sylvia's former team skaters, Lauren Hunt and Nicole Brancucci, sang "For Good, " a song from the Wicked soundtrack that Sylvia loved.
YOU MIGHT ALSO LIKE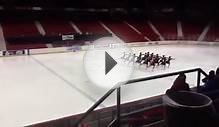 Team Image Synchronized Skating Easterns 2012-13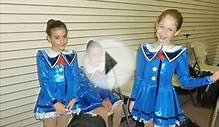 Team Image Synchronized Skating Team Promo
Team Image New York Synchronized Skating Thanksgiving ...
Share this Post