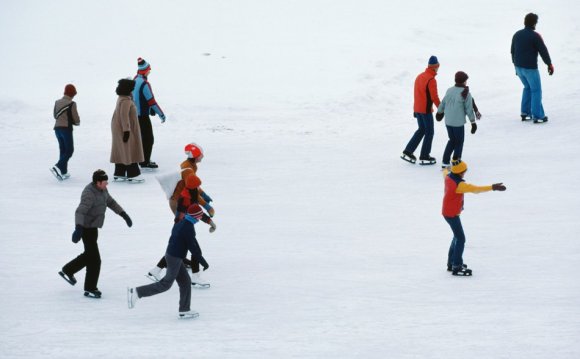 RIT's new ice arena, the Gene Polisseni Center, is currently under construction, just south of the Student Alumni Union. More than four decades earlier, there was a different arena being built on RIT's campus—Frank Ritter Memorial Ice Arena.
Designed by architectural firm Roche-Dinkloo, Ritter Arena was constructed in 1968 as one of the original buildings at RIT during its move from downtown Rochester to suburban Henrietta. It sits adjacent to the George H. Clark Gymnasium at the heart of campus.
Named in honor of Frank Ritter, one of the founders of the Mechanics Institute, Ritter Arena has served as the home of the RIT Tigers men's and women's ice hockey programs, the Genesee Figure Skating Club and various events for more than four decades.
While the arena's monolithic brick exterior has remained largely unchanged since 1968, the interior has benefited from several renovations. Improvements have included new interior walls and a ceiling, improved lighting and sound systems and a new scoreboard. Most recently, in 2011, an addition was constructed with new locker rooms, offices and training facilities.
With a crowd capacity of 2, 100 spectators and ice dimensions of 185 feet by 85 feet, the 52, 125-square-foot arena is a small, intimate venue that frequently draws sellout crowds for RIT's hockey contests.
In October 2012, ground was broken on the Gene Polisseni Center. Slated to open in the fall of 2014, the arena will be about 105, 000 square feet, with an NHL-sized 200-foot-by-85-foot ice surface. The Polisseni Center will have the ability to accommodate an audience of 4, 500 for hockey games.
RIT's home hockey games will be played at the Polisseni Center starting in the 2014 season, but Ritter Arena will not be abandoned. It will continue to serve the RIT and Rochester communities for years to come as a host for local hockey tournaments and public skating, and the newly added locker rooms will serve other sports teams at RIT, including baseball, lacrosse and soccer.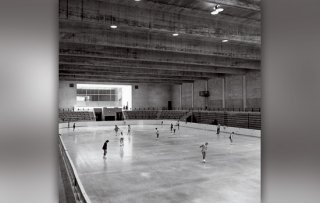 RIT Archives
Share this Post