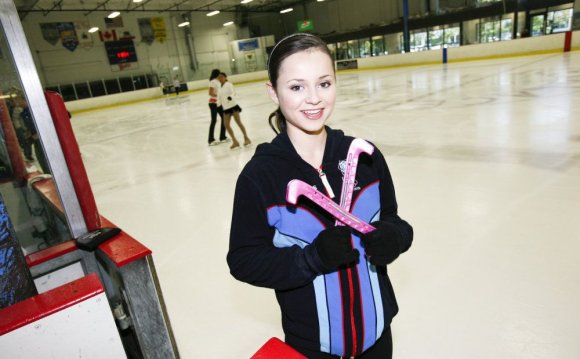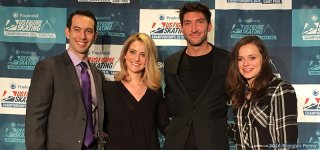 (L-R) Ben Agosto, Tanith White, Evan Lysacek and Sasha Cohen celebrate their inductions into the U.S. Figure Skating Hall of Fame Class of 2016 on Jan. 23, 2016 in St. Paul, Minn.
ST. PAUL, Minn. - For perhaps the final time in their lives, Evan Lysacek, Sasha Cohen, Tanith White and Ben Agosto filed into a press conference room. Only this time it wasn't after winning national titles or before beginning competition at the Olympic Winter Games.
Ten years after competing together at the 2006 Olympic Winter Games, the group of Olympic medalists reunited and was inducted into the U.S. Figure Skating Hall of Fame Class of 2016 during a ceremony Friday night at the 2016 Prudential U.S. Figure Skating Championships in St. Paul, Minnesota, before speaking to the media Saturday afternoon.
The inductions came six years after all four last competed.
"I think it's rare that so many inductees are from the same generation of skating, so I feel fortunate to be part of the class of 2016, " noted Lysacek. "I myself didn't have a ton of friends in skating. Most of them came from outside of skating, but I can honestly say that everyone at this table are very, very close friends of mine. We grew up together."
Between 2002 and 2010, singles skaters Cohen and Lysacek, and the ice dance team of White (née Belbin) and Agosto racked up two Olympic appearances apiece, three Olympic medals, 10 world championship medals and seven Grand Prix Final medals.
Lysacek, now 31, recounted first traveling with Cohen to Sweden when they were 14 years old, and joining White and Agosto on a trip to Germany to one of their first competitions together as a team.
"It's hard to not become extremely close with athletes who are also at a formative stage of life and travel around the globe to compete and feel the pressure, " Lysacek said. "A lot of teenagers at that age cannot relate to someone with that sort of singular focus, but we could always relate to each other and understand what the other was going through."
In his eight years competing internationally at the senior level, Lysacek amassed more than 20 medals, highlighted by his Olympic gold medal in 2010, when he became the first U.S. man to win gold in 22 years. Among his other accolades are the 2009 world title, two world bronze medals, the 2009 Grand Prix Final title and 10 grand prix event medals. The Vancouver Olympics marked Lysacek's final competition. After failing to return to competition, due to injuries and financial disagreements, he announced his retirement in August 2014.
He spent a year working in commercial real estate before deciding his interests lay on the brand side more than the property side.
"I had a couple good friends in the luxury fashion industry; one was Ralph Lauren and one was Vera Wang, " he said. "I went to Vera and she made me an offer. She said we're not really looking for real estate, but we have a lot of other things you can do. She made me an offer that was interesting. One thing I learned from my whole life was to never turn an offer down – always entertain any opportunity that came my way. So I entertained it."
In 10 months with Wang, Lysacek has been promoted twice, starting as a brand consultant and now heading the licensed products department, managing digital and social media and overseeing visual displays.
"I looked at it the same way I always looked at every opportunity I was given – this is my shot, " he said. "It didn't matter how small or large, I always looked at it as this is my moment, I have to prove myself."
Lysacek was inducted into the hall of fame by Frank Carroll, who coached him from 2003 through he end of his career.
Cohen was also inducted by her coach, John Nicks, who started coaching her in 1996 and remained her coach for the majority of her career.
YOU MIGHT ALSO LIKE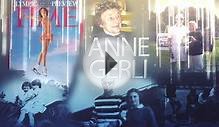 Anne Gerli - U.S. Figure Skating Hall of Fame Class of 2015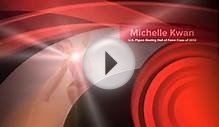 Michelle Kwan - U.S. Figure Skating Hall of Fame Class of 2012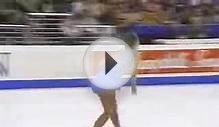 Kwan, Galindo nominated for U.S. Figure Skating Hall of Fame
Share this Post