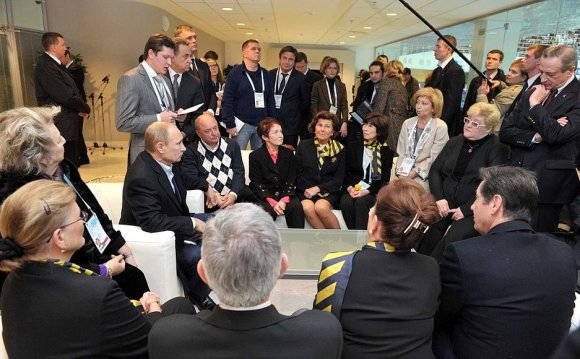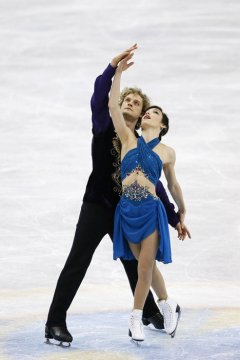 Davis and White first performed Rimsky-Korsakov's "Scheherezade" in 2013. Source: Imago / Legion Media
Charlie White, a princely skater with the long blonde curls of a surfboarder, lifts his partner Meryl Davis – a mighty porcelain doll – over his head with ease. She lands upright, one skate on his thigh with her other leg majestically extended high in the air.
When Sochi-bound ice dancers Davis and White first performed their interpretation of Rimsky-Korsakov's "Scheherezade, " the crowd gave the skaters a standing ovation for a fluid, flawless dance.
Sports pundits and fans have high expectations for Davis and White as the U.S. team arrives in Russia for the Olympic Games. "We've had a lot of great moments over the last four years, " Charlie White told reporters in January when the Olympic team was announced. "We feel we've put ourselves in a really great position to come home with the gold medal."
No U.S. team has ever won a gold medal in ice dancing since it became an Olympic sport in 1976. But Davis and White are clear favorites, and they have a powerful coach with an international reputation by their side.
U.S. Olympic coach and longtime Russian champion ice dancer Marina Zueva has been coaching the duo for 12 years. She is known for her musical, sensuous and lyrical choreography. Zueva chose the dramatic Rimsky-Korsakov "Scheherezade" for Davis and White's powerful performance.
Meryl Davis & Charlie White - Free Dance 'Sheherezade'. Source: YouTube
"They've grown up with me and I've grown up with them." Zueva said in a recent phone interview from her Canton, Michigan, ice rink where she was doing the final preparations before departing for Sochi.
"At this point, we are working on confidence and consistency, " she said, talking about getting Davis and White ready to compete for gold. "It's mostly psychological now, " she added. "But physically we have still have time to build toward peak form. It's the same job as usual."
Zueva, a longtime fixture behind U.S. ice dancing, has quietly helped to bring the sport in the United States to an Olympic level. She is frequently called "a master" who helps ice dancers prepare for the unprecedented pressure top competition brings. She also coaches and choreographs for Davis and White's fellow champions and rivals Tessa Virtue and Scott Moir.
With her longtime coaching partner Igor Shpilband, Zueva helped lead a renaissance in ice dancing from a rink outside Detroit. In late 2012 however, Shpilband and Zueva split, causing a fissure in the ice-dancing world: In the end, White and Davis and several other top dancing pairs stayed with Zueva, a blow to Shpilband.
In an interview with Figure Skating Universe, Shpilband acknowledged that at that time he was caught unaware. He was invited back to Russia to coach. "I got a call from the Russian Figure Skating Federation, " he said. But ultimately, he decided to stay in Michigan and is again filling his roster with the most promising American skaters.
While observers say there is no single "Russian-style" of coaching, it's clear that Russian and former Soviet ice dancers brought a new intensity to U.S. ice dancing and a vitality and substance to the choreography. And it's not only ice dancing: At least five Russian coaches are working with U.S. athletes at the Winter Olympics this month. Russian and Soviet coaches are famous for their motivational powers and their loyalty to gifted and hard-working students.
Marina Klimova is another former Soviet skater who trained at Spartak in Moscow and skated with Oleg Volkov. These days, she is a well-known coach in California. Her longtime skating partner and fellow coach is also her husband Sergei Ponomarenko; together, they were the 1992 Olympic champions, and were inducted into the World Figure Skating Hall of Fame. They won a silver medal for the Soviet Union at the Olympic games in 1988, and a bronze medal in 1984.
Zueva, Shpilband, Klimova and Ponomarenko, along with other Russian and Soviet coaches now living in the United States, were officially selected at young ages to skate. When Zueva was chosen to be an ice dancer, "I was deeply homesick, " she recalled.
She was moved to Moscow to skate intensively and live in a dorm with other skaters, away from her family in St. Petersburg. "But I also knew why I was sent there. Fortunately, I loved to dance, and I loved to perform."
Marina Zueva. Source: RIA Novosti
Russian ice dancing coach and choreographer Marina Zueva competed for the Soviet Union as an ice dancer with partner Andrei Vitman.
They won two national bronze medals at the Soviet Championships.
Zueva retired from ice dancing at the end of the 1970s to become a choreographer.
She left Russia in 1991 to work as a coach and choreographer in North America, first in Canada.
Today she coaches in Michigan and is best known for her success as coach and choreographer to the World champions and sensational rivals in ice dancing, Tessa Virtue and Scott Moir (Canada), and Meryl Davis and Charlie White. Both pairs will perform in Sochi.
YOU MIGHT ALSO LIKE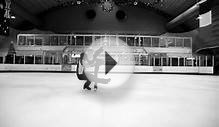 The Art of Figure Skating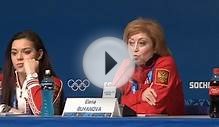 Russian Skating Coach Pushes Back Score Criticism
Share this Post