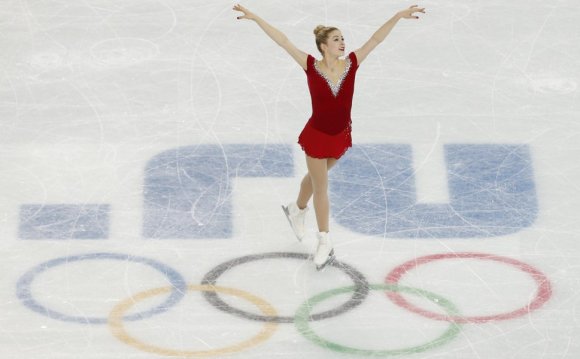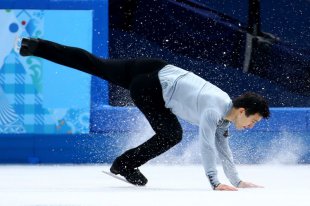 From start to finish, from Evgeny Plushenko bowing out moments before his short program to the eventual gold medalist falling twice in his free skate, the entire men's individual competition seemed more than a little cursed.
The exit of Russia's 31-year-old figure skating legend, four-time Olympic medalist and purveyor of the occasional on-ice striptease, he who veritably stole the show in the team skating competition, should have opened the door for the remaining competitors to soar. Instead, they struggled almost uniformly, with not a single top-level competitor skating two clean programs.
In the end, Japan's 19-year-old Yuzuru Hanyu–whose spectacular short program performance earned him a record high score and a little bit of breathing room for the free skate–took home the gold. Patrick Chan, Canada's three-time world champion and longtime gold medal favorite, placed a disappointing second, blowing his chance to capitalize on Hanyu's error-riddled free skate with a series of mistakes of his own. Kazakhstan's Denis Ten, came back from the sidelines after a season punctuated with illness and injury, skating a strong (if not totally clean) program good enough to win bronze.
The disasters started almost immediately following Plushenko's withdrawal on Thursday, when America's Jeremy Abbott, a four-time national champion and two-time Olympian, ate it so hard on a quad toe loop that he lay there on the ice for about 15 seconds, while spectators around the world gasped in horror. (Eventually, at the urging of the crowd, Abbott got up and finished the program, ultimately coming in 12th on Friday after a redemptive–if quad-free–free skate.)
Next to biff it in the short program was Kevin Reynolds, Canada's (dare we say, slightly elfin?) quad king, who landed three four-revolution jumps in the team event, but went down twice in the short program, once on a quad and once on the triple axel.
Then came Ten, who went down on his first quad, entering the free skate way back in ninth place.
There were a few stellar short program performances: America's lovably be-ponytailed Jason Brown skated a clean, characteristically energetic short program to the music of Prince (gotta love this kid for his music selection: he performs his long program to music from Riverdance), finishing the event in sixth place despite not even attempting a quad. Hanyu gave a huge performance, with a beautiful, clean quad, becoming the first man in figure skating to break the 100-point mark in his short program score. And Patrick Chan, who fell out of his triple axel, nevertheless stayed within reach of the gold medal, finishing the short program about four points behind Hanyu. Spanish favorite Javier Fernandez, too, skated a decent-if-tentative, short program, launching him into third for the day.
But none of those guys could keep up the performance levels for the free skate. Hanyu, so effortless with the jumps a day earlier, went down on his quad salchow, nearly fell on a triple flip, and stumbled on a triple lutz combination jump. Fernandez, though solid on two quads in the first half of his free skate, barely hung on to his triple axel and doubled a handful of planned triples. He finished the free skate just off the podium.
Jason Brown, who going into the event had a long-shot chance at the bronze, was shaky from the get-go, two-footing his triple axel, struggling on several landings, under-rotating a triple loop, and missing the takeoff of a double axel, which, though he completed the actual jump cleanly moments later, was still counted as a jump. That meant his clean triple lutz, which followed the double axel, was considered an extra jump and not counted at all. Brown finished ninth overall.
YOU MIGHT ALSO LIKE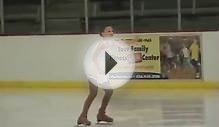 Kennedy Figure Skating Freestyle 4 Artistic to Music from ...
Figure Skating Music CLASSICS CD.mov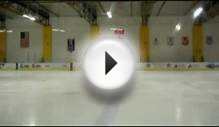 Figure Skating
Share this Post