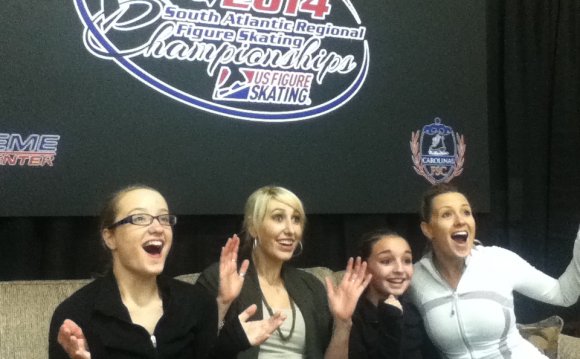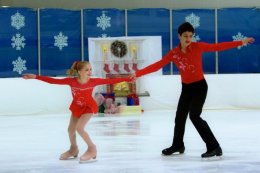 Jim Garbutt of CCSC and Ellie McClellan of the Summit FSC competed at Eastern Sectionals Nov 19-23, 2013 in Ashburne, VA in juvenile pairs. This was their first competition since they started skating together in June 2013 with coach Lance Travis, assisted by Mary Jo Bullin. After skating exceptionally well, they placed 5th, less than one point away from competing at the U.S. Championships.
Last Thursday, November 14, seven members of Central Carolina Skating Club enjoyed presenting short freeskate programs at the VIP Grand Opening party for Durham's first-ever outdoor skating facility, the new Ice Factory Rink. Located at the American Tobacco Campus in downtown Durham, the Ice Factory Rink opened to the public November 16, and will be open for public skating Tuesday through Sunday each week until January 20. CCSC members who skated in the exhibition included Madison Scott, Amanda McClure, Brianna Cellini, Alyson Robinson, Mia Horvath, Amaya Crews, and Franca Amistadi.
Several of our Central Carolina Skating Club members competed last month at South Atlantic Regionals in Charlotte. US Figure Skating South Atlantic Regionals brings skaters together from an area that encompasses local clubs from the Philadephia area to Florida. There are 9 different regional championships within US Figure Skating. Top qualifying competitors from each of those 9 regions move on to the three Sectionals Championships (Easterns, Midwesterns, and Pacific); the top qualifiers from the three Sectionals will vie for the USFS National Championships in singles, pairs and dance in Boston in January 2014.
Our skaters' results in the Qualifying competition:
Jenna Marks, 10th, Juvenile Girls, QR, Group A
Angela Bosher, 11th, Juvenile Girls, QR, Group B
Aaron Lenchek, 3rd, Intermediate Men
Lilly Marks, 6th, Novice Ladies, QR, Group B
CCSC results in the Non-Qualifying events:
Amelia Horvath, 9th, High Beginner Free Skate B
Madison Miner, 7th, No Test Free Skate, Group E
Anna Poe, 6th, Pre-Juvenile Girls Free Skate, Group A
Alyson Robinson, 9th, Pre-Juvenile Girls Free Skate, Group A
By placing among the top four in his event at Regionals, Aaron Lenchek has earned the opportunity to compete in the Intermediate Men's event at Eastern Sectionals, November 19-23, in Ashland, VA, hosted by the Washington FSC. He will also compete in Intermediate Pairs with Jessica Tran of the Summit FSC. Aaron will be among 12 skaters vying for an opportunity to compete at nationals; he and Tran will be one of the 7 pairs teams competing for an opportunity to represent the Eastern Section at the U.S. championships.
CCSC is now blogging! You can visit our blog at . Even better, subscribe to the RSS feed by using your favorite RSS Feed Reader.
YOU MIGHT ALSO LIKE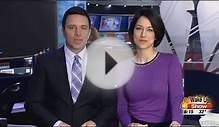 Action Cam: Local Figure Skaters Competing at National ...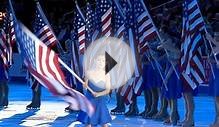 2015 US Figure Skating Championships - Opening Ceremonies ...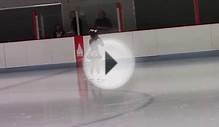 Hannah Q., 7 yrs old, 1st Figure Skating Competition, 1st ...
Share this Post