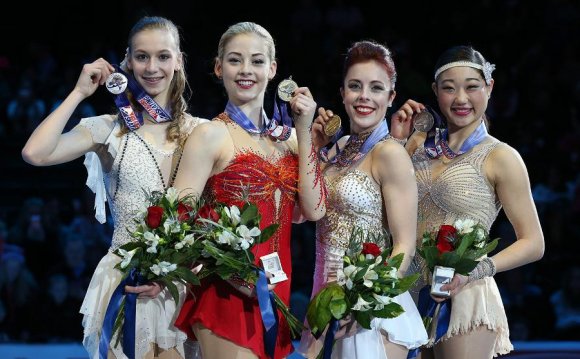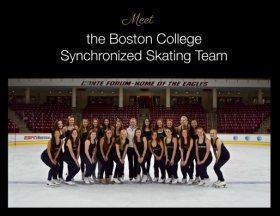 SYNCHRONIZED SKATING
is a large and fast-growing discipline, consists of 8—20 athletes skating on ice at one time moving as one flowing unit at high speed.
ABOUT BCSYNCHRO
The synchronized skating team at Boston College is run by students but is coached by Gianna Goode, a synchronized skating alumna of the nationally ranked Miami University and former coach of various synchronized skating teams. Her sister Gabi is the assistant coach. The team practices on the ice at least twice a week at Conte Forum. All practices are crucial for the team's development so skaters must attend all practices. Skaters that wish to compete on a collegiate level are required to have passed juvenile moves-in-the-field as per the rules of the United States Figure Skating Association.
In order to prepare for the Eastern Synchronized Skating Sectional Championship, the team returns a week early from Winter Break. This training week includes on-ice practices and off-ice conditioning and team building exercises. All skaters must attend this week, as the team solidifies the program and prepares for the height of their competitive season. The team first competes at the Eastern Synchronized Skating Sectional Championship, and, if they qualify, moves on to compete at the Synchronized Skating Nationals.
Though BCFSC receives some financial assistance from the BC Club Sport Organization to help cover the team's expenses, skaters usually do have to pay dues at the end of the season. The team tries to host fundraisers throughout the year to raise money for the team.
Interested in joining the team?
Tryouts for the synchronized skating team are held in the early fall, as soon as the ice at Conte Forum is put down.
Past Accomplishments

Eastern Regionals 2014 (Open Collegiate): 4th Place
Eastern Regionals 2013 (Open Collegiate): 3rd Place
Eastern Regionals 2012 (Open Collegiate): 6th Place
Connecticut Classic 2012: 1st Place
Eastern Regionals 2011 (Open Collegiate): 1st Place
Connecticut Classic 2011: 1st Place
New England Challenge Cup 2011: 1st Place
Eastern Regionals 2010 (Collegiate): 6th Place
Eastern Regionals 2009 (Open Collegiate): 1st Place
Eastern Regionals 2007 (Collegiate): 2nd Place
YOU MIGHT ALSO LIKE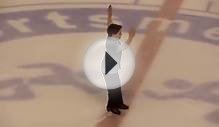 figure skating exihibition at college hockey game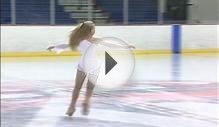 Figure Skating College Highlight Video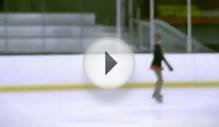 Meet Sandra - Figure Skating Coach - The Crossing College
Share this Post