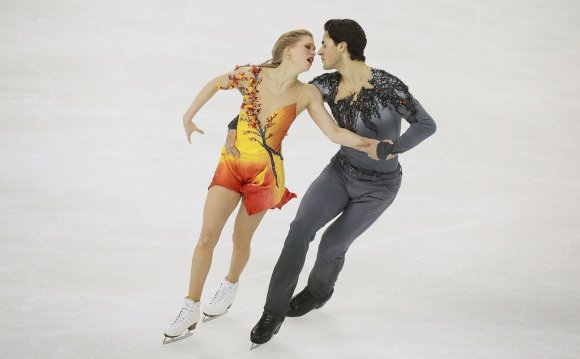 I'm back to recap my exciting visit with 2015 U.S. champion and World silver medalist Madison Chock. I got the chance to meet her at the Milwaukee Art Museum's MAM After Dark event, where she promoted Skate America and showcased the work she puts into her and partner Evan Bates' costume creation.
Although she has no formal training, Madison designs all of the team's costumes herself. She conceptualizes the pieces, sketches them and works with a seamstress who constructs the costumes. I was impressed with Madison's drawings and how closely the finished product matches her original design.
"I have a very wonderful seamstress that can bring my ideas to life, " Madison said, noting that she often personally puts the finishing touches on the costumes herself by adding rhinestones and embellishments.
Three of her dresses were on display at the event—her short and free dance costumes from the 2013-14 Olympic season and an earlier design from the team's Cirque du Soleil program during the 2012-13 season.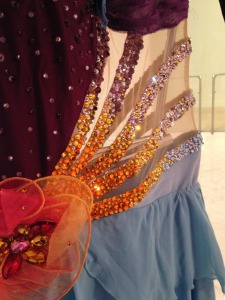 "I absolutely loved that program and I had so much fun designing and making this dress, " Madison said of the Cirque du Soleil costume. "It was such a fun process. This is probably the most enjoyable time I had working on a dress."
She said that the rhinestones in the middle section of the piece took several hours to complete.
My favorite display was the gold lace dance dress she wore at the Olympics for their short dance (set to the music of "Hollywood"/"No Business Like Show Business"). The detail on the dress is incredible—the lace was so intricate and the skirt had five different layers of fringe in different colors that Madison 'rhinestoned' for extra flair.
After hearing about how involved she was in the costuming process, I wondered if Evan gets any say in the design, but she assured me that he does.
"Of course! I consult him, I ask him what he thinks, but usually he's pretty good about letting me handle it, " she said. "I do value his input though."
Next week, Madi and Evan will be back in Milwaukee to kick off their Grand Prix season at Skate America. Madison said that fans can expect some adjustments to their programs since their first competition earlier this month.
"We're feeling great and excited to show our programs at Skate America. We've made a few changes since Nebelhorn. I won't say what they are yet, but everyone is in for a big surprise."
She hinted that costumes may be involved in those changes, but did not want to share too much before the event.
I will be attending Skate America all weekend, so please follow me on Twitter for photos, videos and more from my first live competition experience! I'll be back here on the fan blog following the event to share a review of the first stop on the Grand Prix series.
Meghan Dade is one of four fans selected to be a U.S. Figure Skating Fan Zone Blogger. Meghan is acommunications professional who lives in Milwaukee, home of 2015 Skate America.
YOU MIGHT ALSO LIKE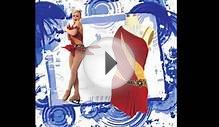 Ice Skating Dresses by Zhanna Kens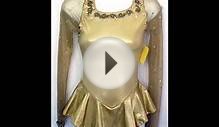 Ice Skating Consignment VIII Dresses at ...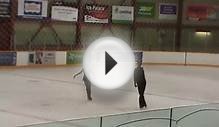 QUICKSTEP - Haley Ice Dance Figure Skating Test
Share this Post