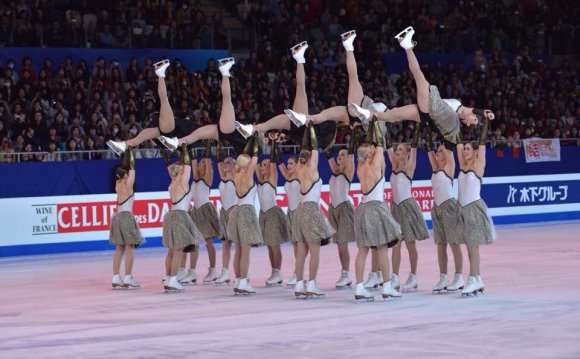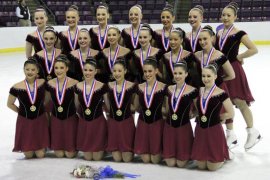 The Haydenettes won their 5th straight national title, 22nd overall, in Colorado March 2. Photo by Connie Streich Schamaun
Two Boston University students are hoping to become part of history this week when they compete in the synchronized skating world championships with the Boston-based Haydenettes, a team that has won the last five US championships. Devin Wang (SAR'14) and Eliana Roth (CAS'17) have been skating for the past year with the team, whose 22 national titles make it the most successful synchronized skating team in US history.
The team earned its fifth consecutive championship in Colorado Springs, Colo., last month by the widest margin ever recorded at the event, qualifying for the world championships, being held in Courmayeur, Italy, April 3 to 5. With four consecutive bronze medals in international competition, the Haydenettes are shooting for the one goal that has eluded any American team—an international gold medal. At Courmayeur, they will perform a short routine (2 minutes, 50 seconds) and finish with a long routine (4 minutes, 40 seconds) to the soundtrack of the Count of Monte Cristo.
Skating with the Haydenettes is something Roth has dreamed about since she took up synchronized skating. As a child, the South Jersey native traveled five hours by train three days a week to compete with the New York–based Skyliners, where she was discovered by Haydenettes coach Saga Krantz.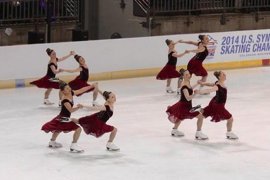 Roth was invited to watch the Haydenettes compete at last year's world championships, which happened to be at Agganis Arena. "When I saw them compete it really started to hit me, " she says. "That's when I really knew I wanted to be a Haydenette."
Roth, whose choice of BU was influenced by the proximity to the Haydenettes, says that "ultimately I'm here for school. But skating is a huge part of my identity. I know that there will be a time when I have to move on from the sport, as much as I love it right now, but regardless of what happens in Italy, I plan to keep skating next year and would love to for the rest of my life."
Like Roth, Wang fell in love with synchronized skating soon after she took up the sport at the age of nine. She had some individual skating lessons growing up in California's Bay Area, but enjoyed working with a team more. While at BU, she was skating with Team Excel Junior in Allston when a friend persuaded her to try out for the Haydenettes. The team officially welcomed her at the end of her sophomore year.
Having an outlet for expression became even more important for Wang, who is enrolled in the intensive Sargent College Athletic Training program, following the traumatic events at last year's Boston Marathon. She was volunteering in a medical tent near the finish line when the bombs exploded, and she quickly became one of the Good Samaritans assisting the hundreds injured.
"After the events of last year, skating did become a kind of safe haven for me, " Wang says. "When I was out on the ice, it put me in a good mental state, where I was able to forget about everything else and all my thoughts left me. My teammates were there for me and provided a great support system, and since then I've just tried to channel positive interactions from the experience and take advantage of every opportunity that may come from it."
Because of her work at the Marathon, Wang has skated at the TD Garden, appeared at Red Sox games, and met world-renowned physicians. She now has the opportunity to help the United States win its first gold medal in synchronized skating. Because synchronized skating is not yet an Olympic sport, the annual world championships provide the biggest stage possible for the skaters.
"I've worked so hard for this and it's been a dream of mine for over four years, " Roth says. "People always ask me how I manage without almost any free time between the two, and I tell them that I have no idea—I just know that I have to do it or I wouldn't be able do both things that I love. I know it's not going to hit me until I'm out there, but being part of a team like this and competing with them on the biggest stage is just incredible."
YOU MIGHT ALSO LIKE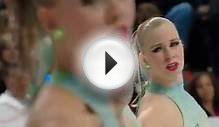 World Synchronized Skating Championships 2015 SP- Team USA 1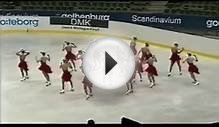 "Go the Distance" - 2012 World Synchronized Skating ...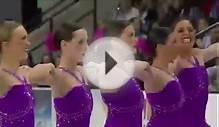 2013 World Synchronized Skating FS-4 Team USA 1
Share this Post