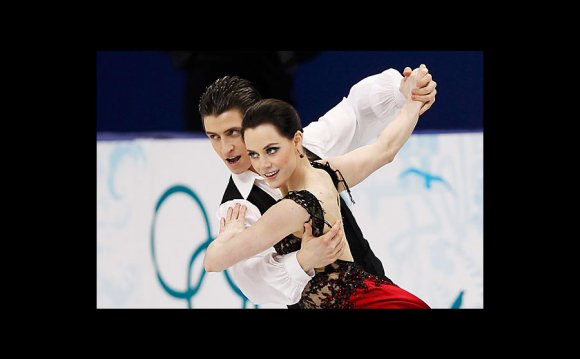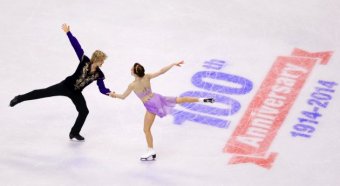 The athletes wear glittery outfits and ice skates and both disciplines require grace and strength, so pairs figure skating and ice dancing are basically the same thing, right?
Wrong! Although both are mesmerizing to watch, these two figure skating disciplines are, in fact, very different. Without background knowledge, it can be difficult to pinpoint exactly what separates the two, so we've assembled a handy guide to help.
[ Related: Figure skating terms to know ]
Let's start with the basics. Pairs figure skating is inspired by singles skating and emulates two people skating as one. It features high-flying tricks and lifts and couples skating side-by-side in unison.
Marissa Castelli and Simon Shnapir perform a twist lift at the 2014 US Championships.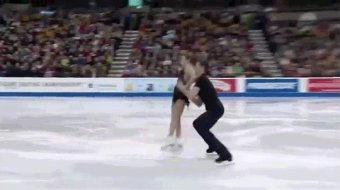 Pairs skating have two components of competition: the short program and the free skate. In the short program, skaters must complete a list of required elements, like throw jumps (pictured below), although they can incorporate their own choreography. Couples have more artistic freedom in the free skate, where skaters choose their own elements. In both programs each element has a certain point value based on its difficulty.
Marissa Castelli and Simon Shnapir perform a throw jump.
Think of ice dancing as ballroom dancing on skates. In fact, gold medal favorites from Team USA Meryl Davis and Charlie White had their "My Fair Lady" routine choreographed by Derek Hough of "Dancing with the Stars" fame, according to People.com.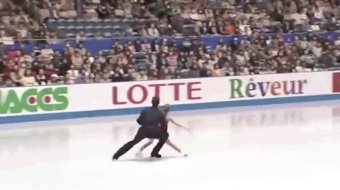 There is little skating apart; couples are not supposed to be separated by more than two arm lengths. Throws and jumps are not allowed in ice dancing and spins must be performed together. Both disciplines have lifts, although in pairs skating the woman is generally lifted above the male's head, and in ice dancing this is not allowed. Here's an example of an ice dancing lift:
Meryl Davis and Charlie White perform a lift at the 2010 Winter Olympics.
I know what you might be thinking - so ice dancing is just watered-down pairs figure skating, right? Wrong again! Ice dancing has its own elements that make it difficult and unique.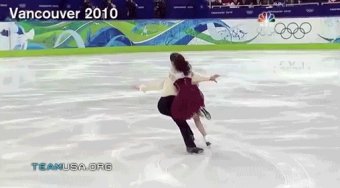 A primary staple of ice dancing is intricate footwork sequences to the rhythm of music (like ballroom dancing). While fans see some footwork in pairs figure skating, it doesn't compare with the difficulty of ice dancing.
Meryl Davis and Charlie White perform a footwork sequence.
There are two components to ice dancing competition: short dance and free dance.
During part of the short dance all competitors perform the same steps and holds for the judges. They have more freedom in the other part of the short dance, but still must complete five required elements. The short dance has an assigned theme and rhythm every year. The free dance is, as expected, the most unique for each couple, and they choose their own tempos, themes and choreography, while incorporating the required elements.
Oh, by the way, it's worth noting that ice dancing pair Davis and White are the best hope for hardware in figure skating for Team USA. They are dominant in their craft and are the reigning world champs. The Associated Press made its predictions, and expect no other U.S. figure skating pairs or singles to medal at Sochi.
YOU MIGHT ALSO LIKE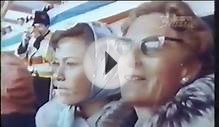 1960 Winter Olympics Pairs Figure Skating and rare Vinson ...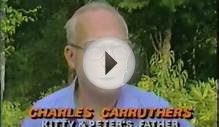 1984 Winter Olympics - Pairs Figure Skating Short Program ...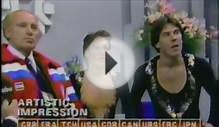 1984 Winter Olympics - Pairs Figure Skating Free Skate ...
Share this Post