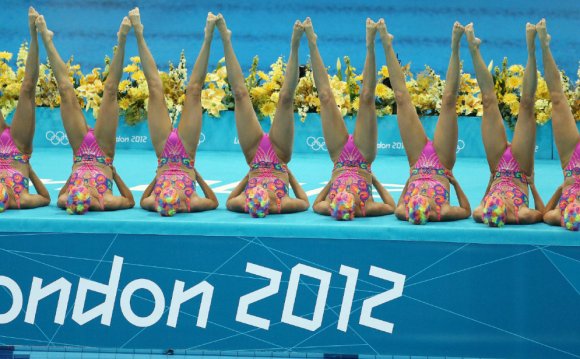 Just before diving into a Toronto pool, Karine Thomas and Jacqueline Simoneau quietly talk each other through their routine and shake out their arms and legs.
Powerful and defined triceps, deltoids and quadriceps ripple noticeably with each shake.
This is not a side of synchronized swimming seen very often.
Normally, they stand on the pool deck in theatrical outfits, shellacked hair, more makeup than seems possible to apply at one time, and dance their way into the pool.
The sport, stripped bare of its showy elements, amounts to a duo or a team of eight women in Team Canada swim caps and goggles, demonstrating the agility of a gymnast and the cardiovascular superiority of a triathlete.
They move effortlessly down the length of the pool, as though carried along by a moving walkway instead of their own legs (which can never touch the bottom) whirling around like blades in a blender. It's called the eggbeater for a reason.
For much of the routine, which runs up to four minutes, they're upside in the water holding their breath.
"Yes, it's artistic, but people forget how hard our sport is."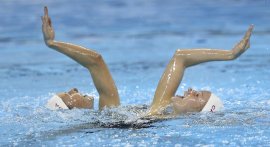 If they grunted like a weightlifter when tossing a teammate three-metres in the air or flopped down like a middle-distance runner after a particularly exhausting pattern the athleticism involved would be more obvious.
But, above all, they must make it look effortless. Their legs may be coursing with pain or they're close to blacking out from lack of oxygen, and yet still they smile.
But it is actually the athleticism of synchronized swimming that holds the future for the Canadian team and the sport itself, says Jackie Buckingham, CEO of Synchro Canada.
"You can only do so much with choreography."
In keeping with the Olympic credo — faster, higher, stronger — progression needs to mean more physically demanding routines, she says.
As the Canadians practice their splits, patterns and lifts, head coach Meng Chen paces along the side of the pool. She arches her body or cuts through the air with her hand as they do in the water.
"I love the control, " she shouts at the team in the water during a lift.
"I need to see the height, " she says, a moment later. "One more time."
One more time — they get that one a lot. This is a sport of such fine detail that perfection is continually sought but rarely achieved.
Richard Lautens / Toronto Star
Members of the Canadian national synchronized swim team works out at the new aquatic centre in Scarborough.
Part of that, for the Canadian team at least, is because Chen keeps ramping up the difficulty of their routine.
"I really want to show the athletic side of the sport, " she says. "I'm increasing the difficulty in our choreography to show that they can do more than people expect."
That doesn't just mean faster sculling, higher lifts or more complex underwater patterns. It also means placing those elements later in the program.
"It's like we're running 10 400-metre sprints. Tell me, in the last one, how are you going to feel? They have to give everything."
The duet — consisting of Thomas, the only veteran from the 2012 London squad, and Simoneau, the team's youngest star at just 17 — come up for air at the end of the routine to hear Chen clapping.
YOU MIGHT ALSO LIKE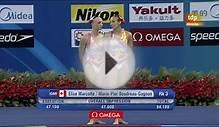 Canada Final Duet Technical, Synchronized Swimming ...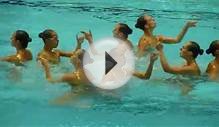 Team Canada, Free Team, Synchronized Swimming, Montreal ...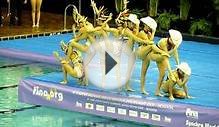 Team Canada Synchronized Swimming Montreal November 2009
Share this Post