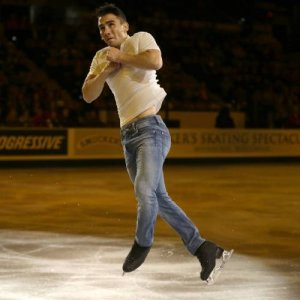 Max Aaron performs during the Skate America exhibition program Sunday, Oct. 25, 2015, in Milwaukee. (AP Photo/Jeffrey Phelps)
The 2016 U.S. Figure Skating Championships give Max Aaron of the Broadmoor Skating Club an opportunity to show how he has developed as an artist.
The 2013 men's national champion is known for his athleticism, which helped him attack quadruple jumps and quadruple toe loops, the moves that delight fans and score high on the technical half of the judges' scoring.
But the 23-year-old needed to improve on the artistic side to avoid stagnation after his fourth-place finish at the 2015 national championships. The artistic performance is something the former youth ice hockey player enjoyed but had not explored.
"It grew on me, " he said during a media conference call. "But now that I am getting older, I know what I want in an artistic program. I enjoy that artistic side and that is something I wanted to bring out this season."
It required a new approach for the Arizona native, who trains in Colorado Springs.
"For me it started off with listening to the music and finding the emotions they invoke, then learning to hold classical lines on the ice without music, then working on the movement and combining the two with the music, " he said. "It has been a tough process but that is the way I have chosen."
The new emphasis has paid off. Aaron won his first Grand Prix title at 2015 Skate America in October and followed that up with a second GP title in Estonia in November.
"He can be even better, " coach Tom Zakrajsek told U.S. Figure Skating following Skate America. "There are times where he won't miss the (double) axel, or he will be more extroverted with his face, or his lines will be more finished. As a stepping stone to build confidence, this was the best he has ever done in competition."
Next weekend's senior competition - the younger skaters compete in St. Paul, Minn, this weekend and early next week - gives Aaron a chance to show how he has developed.
"I have to focus on myself and how I can do that every day in practice and when the lights are on and the pressure is on, " he said. "I want to be ready for the moment."
YOU MIGHT ALSO LIKE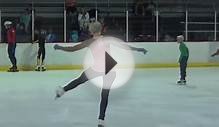 Adult Figure Skater Biellman Spin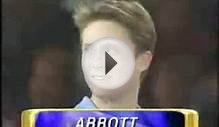 Broadmoors Skating Club Champions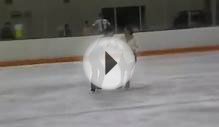 Rebekah and Joel Schneider-Farris - Broadmoor Skating Club ...
Share this Post